Am 16. Dezember 2009 war das Gießener MuK voll vorweihnachtlicher Stimmung. Die Kneipe 1022 war mit Stühlen ausgestattet worden, der Duft von Glühwein erfüllte den Raum und Spekulatius und anderes Gebäck wurde auf Tellern herumgereicht. Die perfekte Atmosphäre, um auf das letzte Deutschlandkonzert von Kevin Devine einzustimmen.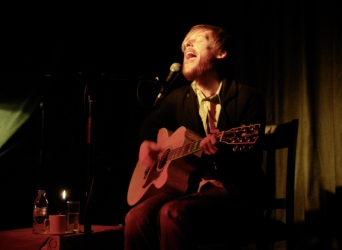 Zunächst aber stehen The Stars Tennisballs aus Frankfurt auf der Bühne. Drei Burschen, die herzzerreißende Indiepoprocksongs abliefern, denen man noch so manch andere musikalische Genrebezeichnung unterjubeln möchte. Auf jeden Fall sehr schön und vielversprechend, was vom bereits zahlreich erschienen Publikum auch mit gebührender Aufmerksamkeit honoriert wird. Dürfen gerne mal wiederkommen!!
Dann erklimmt Mister Devine mit seiner Gitarre die Bühne. Dass ihm die verrauchte Luft in der Hamburger Astra Stube am Abend zuvor beinah die Stimmbänder weggeätzt hat, merkt man ihm nur bei zwischenzeitlichen Hustern an. Bereits als ersten Song schmettert er den hingerissenen Gästen "Brothers Blood" mit solch einer Hingabe entgegen, dass man meinen könnte, dass ihm bei diesem Geschrei gleich die Kehle explodieren würde. Geht aber alles gut und Gießen bekommt mal wieder einen ausgedehnten Einblick in das Schaffen dieses großartigen Künstlers. In etwa zwei Stunden gibt er Aktuelles wie "I Could Be With Anyone" und ältere Stücke wie "People Are So Fickle" und "Just Stay" zum Besten und auch die obligatorischen Coverversionen dürften nicht fehlen (diesmal ist unter anderem Leonard Cohens "Chelsea Hotel No. 2" mit der höchst einprägsamen Textzeile "Well never mind, we are ugly but we have the music" dabei).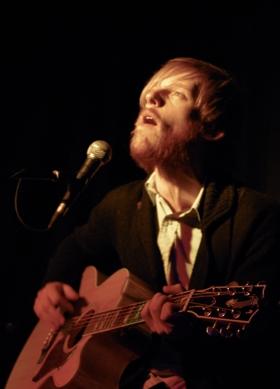 Aber auch zwischen den Songs präsentiert sich Kevin Devine, eben in bester Singer-Songwriter-Manier, plauderfreudig, gibt kleine Anekdoten zum besten und erntet insbesondere Sympathiepunkte als er augenscheinlich weinseligen Oasis-Fans, die zu gerne selbst die Bühne erklimmen würden um mal ein Liedchen zum besten geben, auf besonders charmante Art und Weise ruhigzustellen vermag. Auch dem üblichen Prozedere "Konzert-Applaus-Zugabe" möchte er sich heute nicht beugen: "I'll finish now, go to the toilet, and when I come back, I'll play some more songs for you!"
Ein Konzert also, das weniger durch besondere Höhepunkte besticht, sondern durch ein durchgehend gemütliches Beisammensein in beinah heimeligen Umständen, mit einem Sänger der einem das Gefühl vermittelt, man würde mit einem guten Freund am Lagerfeuer sitzen und alte Klassiker schmettern. Wem das ganze ein wenig zu ruhig war und wer die Songs von Kevin gerne in lauterem Gewand erleben möchte, der sei schon mal beruhigt – bereits im Februar kommt der Herr wieder, dann mit seiner Band im Schlepptau. Auch wenn er das nicht unbedingt nötig hätte. Von jenem Abend im Dezember konnte man auf jeden Fall ein warmes Gefühl und einen mit Spekulatius gut angefüllten Magen mit nach Hause nehmen und das Wissen, das es eben manchmal einfach nur einen Mann und eine Gitarre braucht und ein paar besonders schöne Songs und mehr nicht. Ein schöner Abschluss für ein gelungenes Konzertjahr.