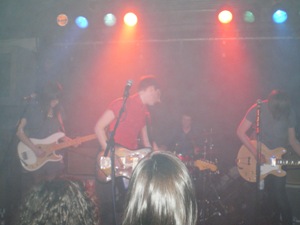 The Answering Machine
Welch angenehme Kombination das war. The Answering Machine und Ra Ra Riot an einem Abend unter einem Dach. Mit The Answering Machine kündigt sich nämlich der nächste Stern am nie enden wollenden britischen Indie-Pop Himmel an und Ra Ra Riot's Sterne sind schon längst aufgegangen.

The Answering Machine stehen kurz vor der Veröffentlichung ihres ersten Albums "Another City, Another Sorry" und präsentierten an diesem Abend hauptsächlich Stücke von ihrem bald erscheinenden Erstlingswerk. "Cliffer" und "Obviously Gold" schlagen in die selbe Kerbe wie schon bekannte Stücke wie "Lightbulbs" oder "Oklahoma". Sie haben ein Händchen für Melodien. Und das nicht zu wenig. Indie-Pop von der feinsten Sorte. Auf die Platte kann man nur gespannt sein.

Ra Ra Riot sind schon nicht mehr so grün hinter den Ohren und haben schon eine Albumveröffentlichung hinter sich. Von den Kritikern gefeiert und von den Fans geliebt hat sich die Band schnell einen Namen gemacht. Die Bühne wird ziemlich voll als Ra Ra Riot kurz nach The Answering Machine die Bühne betreten. Und was es da nicht alles zu sehen gibt. Ein E-Cello und eine E-Geige. Das kann ja nur außergewöhnlich werden.

Und es klingt auch außergewöhnlich. Die Stimme von Sänger Wesley Miles ist so herzerwärmend, dass man ihm sogar verzieht, dass er ein Shirt von seiner eigenen Band trägt. Heute Abend geht das. Der Sound ist ungefähr mit dem vom Vampire Weekend zu vergleichen. Nur in piano und nicht ganz so nach vorne preschend. Aber hier wird großes Kino geboten. "Ghost Under Rocks" oder "Dying Is Fine". Eine große Symbiose von außergewöhnlichen Instrumenten und einem mehr als involvierten Sänger. Das Publikum freut sich und dankt es mit viel Applaus.

Eine grandiose Vorstellung für die man auch gerne den letzten Zug verpasst und die ganze Nacht im Casino verbringt. Dafür immer wieder.