Milloy aus Wakefield in England gelten zur Zeit als Geheimtipp für Freunde der Musik von Hot water music oder Gaslight Anthem. Da besonders letztere Band gegenwärtig groß im Kommen ist, ging ich von einem gut besuchten Ak44 aus, zumal mit Tom Mess auch ein ordentlicher Songwriter mit an Bord war. Pustekuchen.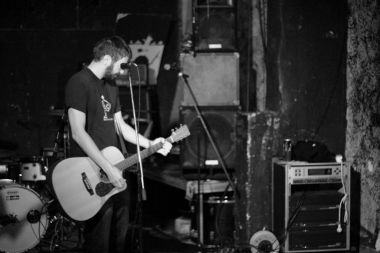 Als
Tom Mess
um kurz nach 22 Uhr sein etwa 30-minütiges Set begann, hatten sich ganze 5 zahlende Besucher an den Ort des Geschehens verirrt. Der Rest bestand aus der bereits gut angeheiterten Milloy-Truppe und einigen hauseigenen AK-Mitarbeitern. Nichts desto trotz machte der junge Mann aus Karlsruhe seine Sache sehr gut und spielte den ein oder anderen mitreißenden Song auf seiner Gitarre.
Sehr schön vorgetragene Lieder, die besonders für Fans von Chuck Ragan mal eine Kostprobe wert sein dürften. Und so schlug dem Sänger von Madstateworld nach jedem Lied eine ordentliche Salve Applaus entgegen, die von Jubelrufen des Hauptacts begleitet wurde. Dieser hatte es sich bereits in der Ecke bequem gemacht und bereitete sich professionell mit einem Jägermeisterverschnitt auf den eigenen Auftritt vor.
Dieser begann auch wenig später nach einem kurzen aber unterhaltsamen Soundcheck.
Geboten wurden in knapp 60 Minuten zahlreiche Hits ihrer beiden Platten "Creating problems while practicing solutions" und "More than a machine". Dass mittlerweile kein weiterer Zuschauer erschienen war machte den Abend zugleich zu einer familiären Veranstaltung, die ja ohnehin auch immer ihren Reiz hat. Obwohl Sänger Jim mittlerweile derart einen im Tee hatte, dass es teilweise schon sehr erheiternd war, machte er seine Sache sehr gut. Keine textlichen Aussetzer und sonstige Ausfälle wurden verzeichnet.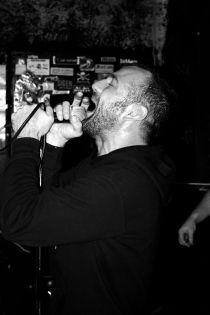 Gespielt wurden schließlich unter anderem "Propofol", "Goodfellas", "Blackjack", "Eveready", "Le coup de grace" und "Evil Knievel" und das großartige "Mary Rose". Beschlossen wurde das Set schließlich mit "Hammers and blades", dem einige Überredungskünste des Publikums und der Band in Richtung Sänger Jim vorausgegangen waren. Dieser war mittlerweile so out of order, dass sich scheinbar die Idee, einfach nur noch ins Bett zu gehen, stark in seinem Kopf breit gemacht zu haben schien. Dieses Vorhaben schob er Gott sei Dank noch ein wenig heraus und so endete der Abend dann doch noch mit einer ordentlichen Setlist.
4 Euro für eine großartige Unterhaltung im kleinen Rahmen ist sicherlich nicht immer möglich. An diesem Abend war das Glück auf unserer Seite.