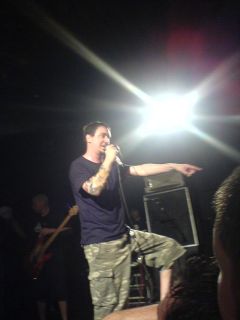 2 Mal hatte ich bis dato die Ehre gehabt die Legenden von
Sick of it all
live erleben zu dürfen. Das war jedoch immer im Rahmen der Eastpack-Touren und somit kam richtige Club-Atmosphäre aufgrund der riesigen Hallen kaum auf. Das sollte Anfang September anders werden, denn da standen Lou und Co in der Frankfurter Batschkapp auf den Brettern.
Die Kapp war schon ordentlich gefüllt als mit Today we rise die erste Band des Abends an den Start ging. Ordentlicher Hardcore aus Würzburg, dargeboten von einer noch recht jungen Truppe. War auf jeden Fall erfrischend, aber das war die Luft ausserhalb der Konzertstätte ebenfalls und somit ging es noch einmal nach draussen.
Als wir uns wieder auf den Weg in Richtung Bühne machten waren Wisdom in chains bereits mit 3/4 ihres Sets fertig und somit konnte ich gerade noch 'Life isn´t fair' raushören. Schöne Show der Jungs aus Amiland. Definitiv ein würdiger Support für den Hauptact.
Der kam dann nach einer recht kurzen Umbapause auch auf die Bühne und wer die Jungs mal live erleben dürfte, der weiß ja was zu erwarten ist: Viel Stagediving, viel gemoshe und auf der Bühne ein Marathon laufender Lou in seinem Element. Sehr gute Stimmung, hier und da mal eine erheiternde Ansage des Frontmanns und Songs wie 'Step down', 'My life', 'Goatless', 'Built to last', 'Us vs them' und 'Scratch the surface' (mit obligatorischer Wall of death) im Gepäck.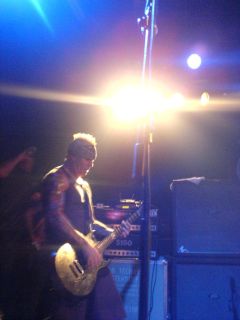 Bei 'Rat pack' wurde ein Engländer aus dem Publikum auf die Bühne geholt, der das Lied mit Megaphon in Richtung Publikum schmettern konnte. Auf alle Fälle sehr erheiternd.
Alles in Allem ein sehr fetter Abend in der Batschkapp, die sich wieder einmal als eine perfekte Location für ein Konzert dieser Größenordnung herausgestellt hat. Zur Band an sich muss man eigentlich keine weiteren Worte verlieren. Routiniert und nach über 20 Jahren immer noch voller Energie. Schön wars!