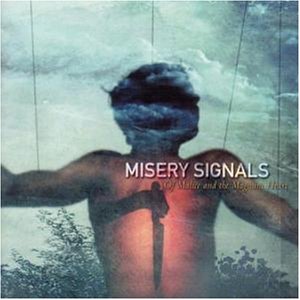 Misery Signals haben eine interessante und bisweilen auch tragische Entstehungsgeschichte aufzuweisen. Gitarist Ryan und Bassist Kyle spielten bis zur Auflösung im Sommer 2002 bei 7 Angels 7 Plagues.
Auf Tour durch Kanada spielte man mehrer Konzerte mit Compromise.
Eben jene Compromise erlitten einen schweren Schicksalsschlag, bei einem Autounfall kamen mehrere Bandmitglieder ums Leben. Für Ryan und Kyle war es auch nach dem 7A7P Split außer Frage weiterhin Musik zu machen, so fragte man Jesse, den früheren Shouter von Compromise, um man nicht zusammen etwas machen wollte. Trotz der der Distanz (Jesse wohnt in Edmonton/ Canada; Ryan und Kyle in Madison/ Wisconsin) kommt der kreative Prozess in Gang. Zur Komplettierung stoßen noch Stuart an zweiter Gitarre hinzu, der früher auch bei Compromise gespielt hat, und Ryans Bruder Branden an den Drums.

Eröffenet wird das Album vom " A Victim, A Target", ein Opener der der durch die geschickt eingesetzten Keyboards (hier hatte wohl Devin Townsend, der für die gesamte, exzellente Produktion verantwortlich ist, seine Finger mit im Spiel) zu orchestralen Größe anschwillt. Angesichts der Qualität und der Intensität (ich würde manche Songs fast als emo bezeichnen wäre der begriff nicht mit so vielen anderen Assoziationen behaftet) der nachfolgenden Lieder nicht in Superlative zu verfallen, fällt mir verdammt schwer, trotzdem wage ich mich mal an eine nüchterne Beschreibung von dem was man erwarten kann.
Misery Signals spielen auf "Of Malice and the Magnum Heart" emotional geladenen Metalcore, ohne Klischees und bedacht auf gängige Trends. Die eingestreuten melodischen Leadgitarren haben eher eine post hardcore Note, weniger skandinavisch geprägt, was ich als angenehm abwechslungsreich empfinde. Die Riffs selbst halten locker den genretypischen Härtegrad, mal treibend, dann wieder rhythmisch stampfend, teilweise etwas vertrackter, kommen sie aber dennoch immer alle auf den Punkt. Parallelen zu 7A7P sind durchaus festzustellen, so streuen z.B. auch Misery Signals den ein oder anderen ruhigeren atmosphärischen Part ein. Drummer Branden brilliert mit einfallsreichen und verdammt schnellem Double Bass spiel. All dies bildet das musikalische Fundament, auf das sich dann die Vocals stützen. Ich muss sträflicherweise zugeben, dass Lyrics für mich meistens eine sekundäre Rolle spielen. Die Symbiose die sich allerdings hier aus Musik und Text ergibt finde ich äußerst bezeichnend für das Gesamtbild, die Stimmung und Intensität die erzeugt werden beeindrucken bei jedem Hören der CD. Die Lyrics sind klar und einfach aufgebaut, aber nicht platt. Emotional, aber nicht weinerlich (ich bin sehr beeindruckt wie Jesse den Tod seiner Freunde in "The Year Summer Ended in June" aufarbeitet. Mit Hardcore Attitude ohne dabei unnötig prollig zu wirken (z.B. in "On Account of an Absence").
Misery Signals haben hier für mich wirklich ein kleines Meisterwerk hingelegt. Die Stücke sind durchgehend hochwertig, kombinieren Härte mit leichten Melodien, weshalb es nicht so schnell langweilig wird. Auch hat es die Band geschafft, eine ganz eigene Note zu finden. Wär 7A7P mag, für den ist Misery Signals Pflichtprogramm. Aber auch Freunde von Bands wie z.B. Scars of Tomorrow sollten mal reinhören, z.B. auf der website, die einen player mit mehreren Tracks beinhaltet.
www.miserysignals.net