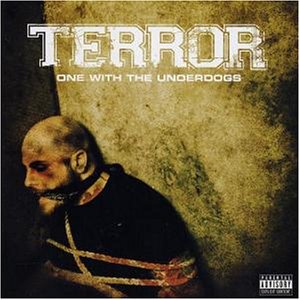 "Terror" aus den Staaten sorgen zur Zeit in der Hardcoreszene für Aufsehen.Mit ihrer neuen und zugleich zweiten Scheibe legen die 5 Jungs unter der Leitung von Scott Vogel einen mehr als würdigen Nachfolger für ihre Debütscheibe "Lowest of the low" hin.
In knapp 32 Minuten bzw 13 Tracks (+Bonus Track) legt die Band die nun zu Trustkill Records gewechselt ist mit "One with the underdogs" ein dermaßen krasses Brett hin,das an Agressivität kaum zu toppen ist.Jedes Lied ist sozusagen ein direkter Schlag in die Fresse und an den Gedanken diese Scheibe live vorgespielt zu bekommen (was im Frühjahr Gott sei Dank durch eine Tour mit keinen geringeren als den Jungs von Agnostic Front ermöglicht wird), zieht man sich gerne schon einmal die Tanzstiefel an.Obwohl die Geschwindigkeit der Riffs im Vergleich zum Vorgänger ein wenig abgenommen hat,lässt das Album keine Zweifel zu,dass man es mit einer energiegeladenen und erstklassigen Band zu tun hat.
Für ihre aktuelle Veröffentlichung haben sich "Terror" auch noch schnell mal ein paar der wohl bekanntesten Namen im Hardcore-Genre mit an Bord geholt: Unter anderem Freddy Cricien von "Madball" und Jamey Jasta von "Hatebreed".Das gesamte Album lebt von gewaltigem Gitarrendonner, ständigem Rhythmuswechsel,schnellen Drum-Lines und bitterbösen Lyrics, die einem Hardcore-Fan ein Lächeln ins Gesicht zaubern.
Trotz einer kurzen Eingewöhnungsphase macht das Album nach mehrmaligem Hören dermaßen Bock,dass man gar nicht genug bekommen kann. Abschliessend lässt sich sagen,dass der Band mit ihrem 2. Album ein richtig sehenswertes Werk gelungen ist,welches sich durchaus neben Scheinben von AF und Hatebreed sehen lassen kann und Lust auf mehr macht!
http://www.terrorhc.com