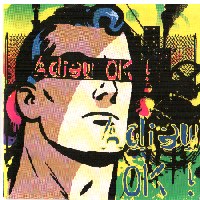 Ganz ehrlich. Als ich die grelle CD mit dem extrem ekligen Cover aus dem Briefumschlag schüttel hat Adieu OK bei mir schon verschissen. Style Punkte 0. Eigenproduktion. Oha. Durch verschiedene, ähnlich anmutende Bands sind wir Benzoliten schon mit einigen Alarmglocken ausgestattet, die immer dann aufschrillen, wenn man gewisse Merkmale registriert. Gibt es doch jede Menge musikalische Fehlgriffe, die es ähnlich gut meinen, aber im Endeffekt leider eher traurige Abziehbilder bekannter Bands sind.
Doch das selbstbetitelte Album der vier Bayern benötigt nicht einmal einen kompletten Durchgang um mich voll und ganz zu überzeugen. Schon allein der rasante Opener "The Beginning" mit Gekreische, Tempowechsel, Hakeleffekten und Luftschutzsirenen ist mit dermaßen vielen Ideen gespickt, dass man sich fragt, was da noch kommen mag.
Fans der Lost Prophets werden definiv auf ihre Kosten kommen. "Into the blue" kommt mit Collegerock eher solide rüber. "Asleep" ist ein leidender Song mit Klavierpart, "Last Page" mit Billig-Elektro Sound ist Enter Shikari lastiger als Enter Shikari selbst. Der Song bildet das absolute Highlight der Platte.
Was nicht heisst, dass Adieu OK schon ihr komplettes Pulver schossen hätten. "Chorus of the damned", "Moment to die for" und "Center of everything" drücken ohne Ende aufs Gas. Unglaublich.
Von solch einem Elan und Ideenreichtum können sich in dem Genre eine Menge Bands eine Scheibe abschneiden. Nebenbei ist die Band bei MTV Rookie und diversen anderen Internetplattformen vorstellig. Würde sagen, dass das Album eigentlich ein Blankoscheck für höhere Weihen ist.
www.myspace.com/adieuok
VÖ: über Rockshow