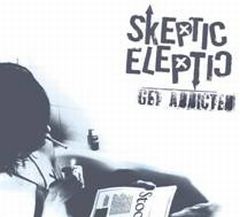 Oh ja! Österreich hat im Bereich Musik weit mehr zu Bieten als Andi Borg, Christina Stürmer und Hansi Hinterseer. Mit Skeptic Eleptic macht sich nun auch hierzulande so langsam eine fantastisch klingende österreichische Punkband breit, deren dritter Longplayer auf den Namen "Get addicted" hört. Benzol hat für euch einmal reingeschnuppert.
Der Silberling liegt in der Anlage, der Play-Button ist gedrückt und kurzzeitig herrscht Verwirrung. Gütiger Himmel – sind das The Briefs? Nochmal nachgeschaut: Nö, doch nicht. Somit schon einmal den ersten Pluspunkt beim Schreiber gesammelt. "Loser" schlägt nämlich musikalisch und gesanglich exakt in die Kerbe der Punkband aus Seattle. Diesen Eindruck werde ich ganz nebenbei auch bei den weiteren 13 Tracks der Scheibe nicht los. Ist aber auch nicht schlimm, denn trotz der starken Ähnlichkeit bringen die vier einen ganzen Batzen Kreativität mit und den Vorwurf eines billigen Abklatsches kann man getrost vergessen.
Besonders Lieder wie "A.D.D.I.C.T.E.D.", "New Kicks" (was sehr an die guten, alten Hives-Zeiten erinnert) und "One more day" bleiben nachdrücklich hängen und auch nach dem vierten Hören bleibt der Finger weg vom "Skip"-Knopf. Dass die Jungs schon als Support für Marky Ramone, The Klaxons, Gods of Blitz, The UK Subs oder den Beatsteaks fungieren durften, freut dabei umso mehr. Scheinbar bekommen die durchaus talentierten und Spaß vermittelnden Musiker auch die dazugehörige Bühne geboten.
Wer auf gut gemachte Punkrockmusik steht, die so leicht nicht in eine Schublade zu stecken ist, sollte einmal auf der Myspace-Seite der Band vorbeischauen und sich selbst einen Eindruck verschaffen. Es lohnt sich auf jeden Fall.
VÖ: 20.05.2008 Vertrieb: Cargo / Label: Dambuster