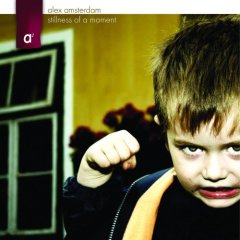 Das
Alex Amsterdam
Promopackage, dass bei uns in den Briefkasten trudelt mutet gigantisch an. Visitenkarte, Promoflyer, komplette Gigographie. Fast sieht es so aus als wollte der gute Alex sich bei uns bewerben. Anders als beim eher Firmenmässigen auftreten gibt er sich im persönlichen Anschreiben und im Mailverkehr. Nämlich verdammt freundlich.
Hört man sich sein aktuelles Album "Stillness of a moment" an merkt man eines, der Mann ist einfach nur professionell. Wer würde sich sonst auch freiwillig die Bühne mit
Fools Garden
teilen? Als Singer und Songwriter stellt er sich vor. Im Booklet zieht er vorerst eine Adam Green Fresse, bei der ich es dem Knirps auf dem Cover gleich tun will. Faust ballen.
Tiefer im Booklet sieht Herr Rosin, wie er mit bürgerlichen Namen heisst, eher wie ein normaler Durchschnittsstudent aus. Einer der jedoch mit dem Talent ausgestattet ist gute Musik zu machen.
Teilweise klingen späte
Goo Goo Dolls
ohne Schmalzlocke durch. Akustikgitarren, Klavier, zart eingesetzte Streicher. All dies gibt es auf "Stillness of a moment". Geht voll in Ordnung. Kommt an und gefällt.
Einziges, wenn auch nicht unbeträchtliches, Manko dieses Albums ist die Tatsache, dass es so gut wie keine Ohrwürmer bietet. Gänsehaut, wie im sehr guten "Days of smile", wird leider nur sehr spärlich verbreitet. Dies verwehrt A² höhere Wertungsweihen.
Für ein Debut mehr als ordentlich. Da könnte aber noch mehr gehen.