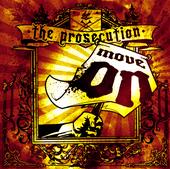 Zugegeben. Vorerst war ich doch recht skeptisch was
The Prosecution
angeht. Nehmt es mir nicht übel. Eine Band aus einem bayrischen Provinzkaff, die auch noch auf jede passende oder unpassende Art und Weise den Namen ihrer Heimatstadt rausposaunt ist nicht wirklich neu und originell. In Zeiten, in denen an jeder Bushaltestelle "Blabla ist die Macht" mit Edding geschrieben steht oder jeder Hansel den Namen seines Viertels in dicken Lettern auf der Brust trägt, löst solcher Lokalpatriotismus eher ein müdes Gähnen aus
.
Skacore machen se also. Schaun, oder vielmehr, hören wir mal. "The Story of Mickey Spillane" geht, wenn man mal das her schulenglische Intro ausser acht lässt, direkt nach vorne. Guter, klassischer In-Die-Fresse Punk mit Bläsersätzen und Hardcore-Chören. Alter Schwede. Da lacht das Herz in Anbetracht der bevorstehenden Festivalsaison.

Herrlich. "To the city" ist die in Offbeat und Percussion gekleidete (wirklich gelungene) Hymne an die Heimatstadt. "Duchess of rudeness" stapft vier Minuten durch die musikalische Geschichte... The Clash, Rancid, Mighty Mighty Bosstones. Alle da. Der "Diaspora Song" schlägt in die gleiche Kerbe. Beim kritischen "Level Zero Society" darf dann auch mal die Gitarrenfraktion mit einem ordentlichen Gitarrensolo beweisen, was sie drauf hat. Der Titelsong kommt schließlich noch so locker flockig im Offbeat daher, das automatisch Badeseestimmung herrscht.

Fettes Ding. Zu allem Überfluss ist die CD komplett in DIY entstanden, inklusive extrem schicken Artwork. Da verfliegt die letzte Skepsis. Höchstes Lob an The Prosecution.