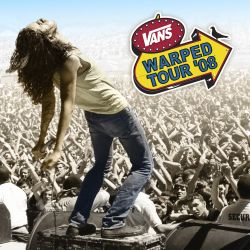 Mitte der neunziger Jahre gegründet hat sich die Vans Warped Tour mittlerweile zu der größten Open-Air-Tournee der Welt gemausert. Während 1998 der erste Sampler zu dieser Veranstaltung mit 25 Bands bestückt wurde, finden sich auf der Anfang Juli erscheinenden Compilation satte 50 Tracks von Künstlern, die im Bereich der Punk-/Hardcore-/Emo- und Alternativeszene zu Hause sind.
"Money for value" ist mit Sicherheit eines der Hauptprinzipien der Mutter aller Samplers. Die 2 Silberlinge, welche bis zum Rand mit Musik gefüllt sind, können für lediglich 10 Euro erstanden werden. Zusätzlich sind auf den beiden Scheiben rare und teilweise sogar unveröffentlichte Tracks von Flogging Molly, Against me, The Gaslight Anthem, Aiden oder Angels & Airwaves zu finden, welche dem ein oder anderen Fan die Kaufentscheidung abnehmen dürften.
Die diesjährige Warped-Tour-Compilation dient logischer Weise auch dazu, sich auf den verschiedenen Genregebieten musikalisch weiterzubilden. Neue Bands werden entdeckt, alte – bereits aus dem Gedächtnis verschwundene – offenbaren erneut ihre Qualitäten und setzen sich wieder auf dem Plattenteller fest. Das Prinzip scheint somit aufzugehen. Besonders die Tracks der Briggs, Street Dogs, Beat Union, Maylene and the sons of disaster, Evergreen Terrace und Black President bleiben nachträglich hängen.
Letztendlich also wieder einmal eine ordentliche Zusammenstellung und ein gelungener Querschnitt durch die verschiedenen Genres, die auf der jährlichen Warped Tour eine Bühne bekommen. Sowohl für Fans als auch für Einsteiger in diesen Bereich also gleicher Maßen von Bedeutung. Und bei dem Preis ist das Werk sowieso ein sure shot.
Die komplette Tracklist mit allen vertretenen Künstlern und ihren Songs findet ihr übrigens
hier.
VÖ: 06.06.2008 auf Sideonedummy Records / Vertrieb: Cargo