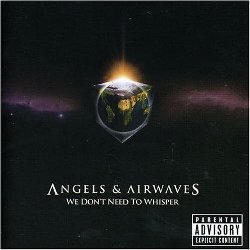 Wenn ich eins nicht mag, dann sind das eingebildete Musiker. Tom De Longe ist einer von dieser Sorte. Oder wie soll man sein Statement, dass "We Don´t Need To Whisper" das beste Album der letzten zwanzig Jahre sei, sonst einordnen?
Persönlich haben Mr. De Longe und der Rezensent also schon mal Differenzen. Aber wie sieht es mit der Musik von Angels And Airwaves aus? Kommen wir da auf einen gemeinsamen Nenner?
Zuerst sollte ein Blick auf die Zusammensetzung der Band geworfen werden. Denn die hat es in sich. Ein Allstarteam zusammengewürfelt aus diversen erfolgreichen Bands: Tom De Longe (Blink 182), David Kennedy (Box Car Racer), Atom Willard (The Offspring, American Hi-Fi) und Ryan Sinn (The Distillers). Alle Achtung. Allein die Zusammenstellung dieser Band lässt einiges erwarten.
Zwanzig Millionen verkaufte Platten mit den zuletzt aufgelösten Blink 182 sollten ein Indiz dafür sein, dass De Longe musikalisch definitiv was auf dem Kasten hat. Aber macht er jetzt da weiter, wo er mit dem letzten Album von Blink 182 aufgehört hat? Oder macht er etwas völlig neues? Diese Frage schien nach den ersten Podcasts auf der Bandhomepage geklärt. Es sollte etwas komplett Neues geben. Mutig.
De Longe will mit Angels And Airwaves den Stempel abwaschen den er durch Blink 182 aufgedrückt bekommen hat. Vielleicht macht er jetzt
auch endlich das was er immer machen wollte. Aber das will wirklich nicht so ganz mitreißen und überzeugen. Es klingt verkrampft. Irgendwie nach dem absoluten Muss anders zu klingen als vorher. Tom De Longe versucht es mit Angels And Airwaves elektronischer, sphärischer und melodiöser. Kein Song auf "We Don´t Need To Whisper" ist kürzer als vier Minuten. Das hat zur Konsequenz, dass sich viele Songs durch überlange Intros oder überlange Zwischenteile in die Länge ziehen wie ein Kaugummi. Etwas kompaktere Tracks hätten dem Album gut getan. Ich will jetzt nicht den alten Zeiten nachheulen. Aber er hätte doch da weitermachen sollen wo er mit seiner alten Band aufgehört hat. Ganz nach dem Motto "Schuster bleib bei deinen Leisten". Angels And Airwaves klingt zu glatt und zu bombastisch. Es plätschert alles vor sich hin. Keine Hymne. Keine Explosion. Wenig Abwechslung. Zuviel Einheitsbrei.
Man sollte ihm jedoch Respekt zollen, dass er einen anderen, neuen musikalischen Weg eingeschlagen hat. Hätte er den Weg seiner vorherigen Band konsequent fortgesetzt wäre der Erfolg ein sicherer gewesen. Jetzt muss er erstmal schauen wie seine neue Art der Musik ankommt. Dieses Album wird mit Sicherheit ein kommerzieller Erfolg werden, da der Name De Longe dahinter steht. Aber ob er sich auf lange Zeit mit dieser Band in der Musikwelt etablieren kann wage ich zu bezweifeln. Reunion bitte.