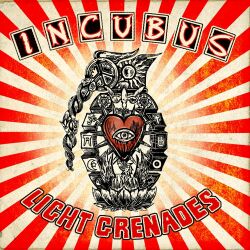 Lange hat es gedauert, bis Incubus mit dem nun erschienenen Longplayer zufrieden waren. Fast ein ganzes Jahr wurde nach ausgiebigem Touren geschreibselt, eingespielt, verbessert und gestrichen. Jetzt ist es also da: Das sechste Album der Band um Brandon Boyd. Und wie immer weiß die Combo zu überzeugen.
Nachdem ich mir die neue Scheibe einige Male angehört hatte, war ich noch nicht wirklich angetan von dem neuen Werk. 'Was nicht ist kann ja noch werden', dachte ich mir – und so kam es dann Gott sei Dank auch: Nachdem ich mich ein wenig ausgiebiger dem Silberling gewidmet hatte kam die Überzeugung, daß das Album doch sehr gelungen sei und sich durchaus nicht hinter den Vorgängern verstecken brauche. 12 Granaten sind aber - um es schonmal vorweg zu nehmen - trotz des Albumtitels nicht vorzufinden.
Mit 'Quicksand' schlägt man zuerst in eine sehr psychedelische Sparte und der aufmerksame Hörer fragt sich, ob dieser Track als Intro wirklich geeignet ist und man den Opener doch nicht hätte als Interlude für zwischendurch verwenden sollen. Die korrekte Übersetzung des Titels ist "Treibsand" und diese Bezeichnung ist durchaus trefflich. Nach ersten Bedenken gelingt dann aber der Übergang zum ersten Knaller 'A kiss to send us off' hervorragend und das Stück kann sich vollends entfalten. Ein richtig guter Hit, der ein wenig an 'Meglomaniac' vom Vorgängeralbum erinnert und definitiv schonmal zu Beginn der Scheibe ein Ausrufezeichen setzt. Wie es scheint, hat es sich gelohnt, ein wenig mehr Zeit als sonst in das Album zu stecken.
Nach ersten harten Stück der Platte folgt mit 'Dig' ein Midtemo-Track, der mich nicht wirklich mitreißen kann, was sich aber beim nächsten Lied 'Anna Molly' komplett ändert. Der Song war ja vorab schon als Videoauskopplung zu begutachten und diesen Track vorweg zu schicken war auf jeden Fall eine gute Wahl, da er die Seele des Albums ziemlich gut wiedergibt. Zu Beginn erinnert es doch stark an die Red Hot Chilli Peppers, entfaltet dann aber seine ganz eigenen Qualitäten und vorbei scheinen die Zeiten, als Incubus-DJ Kilmore die Turntables zum routieren brachte. Nun gesellt er sich ans Keyboard, Klavier oder in diesem Falle an die Zither. Mit 'Love hurts' folgt wieder ein ruhiges Stück des Albums, kann aber durchaus überzeugen.
Anschließend folgt mit 'Light grenades' der Namensvetter des Silberlings. Wieder ein Zanzflächenkracher der schnelleren Gangart. Kommt ziemlich chaotisch daher und ist mit nicht einmal zweieinhalb Minuten einer der kürzesten Songs der Platte. Es überrascht generell, daß bei diesem Album fast kein Lied die 4-Minuten Marke knacken kann - für Improvisationen wird man sich dann wahrscheinlich live noch genügend Zeit nehmen. Mit 'Earth to Bella Part 1', 'Oil and water' und 'Diamonds and coal' reihen sich danach wieder 3 Stücke der ruhigeren Sorte in das 12-Gänge Menü ein. Damit bricht man zum ersten Mal die Wechsel zwischen ruhigen und rockigen Songs auf dieser Platte. Fast scheint es, als hätten sie sich bei dem Lied 'Light grenades' ein wenig zu sehr ausgepowert. Bei 'Rogues' kommen sie dann jedoch wieder etwas zu Kräften und gehen ordentlich nach vorne. Gehört aber meiner Meinung nach nicht zu den stärksten Stücken der Platte – der Ohrwurmcharakter, der die Lieder von Incubus sonst ausmacht fehlt hierbei einfach.
Nun geht es in Richtung Endspurt. Den Anfang der letzten 3 Lieder macht 'Paper shoes'. Wieder ein Midtemo-Song, den man sich abends zum Einschlafen geben könnte – eher minder Partytauglich. Fast am Ende versteckt sich dann mit 'Pendulous threads' noch ein richtiger Diamant. In allen Belangen ein sehr starker Track. Was jedoch das 'Earth to Bella Part 2' - eine abgeschwächte und leicht psychedelische Form des Vorgängerliedes - am Ende noch soll, ist mir mehr als rätselhaft. Passt aber auch irgendwie zum recht wahllosen Anfangstrack.
Im Großen und Ganzen ist Incubus mit dem neuen Album mal wieder ein ganz großer Wurf gelungen. Überzeugte Incubus-Fans dürften mehr als zufrieden sein und auch tanzwütige Musikfans werden in den nächsten Wochen und Monaten sicherlich den ein oder anderen Track der Platte in der Disco ihrer Wahl zu hören bekommen. Schön gemacht Jungs!