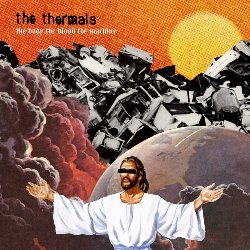 Es gibt wenige Bands, die einmalig und unverwechselbar sind. The Thermals gehören jedoch dazu. Ihr Sound ist ihre Visitenkarte. Eingängige melodiöse Indiemusik mit einer Brise Pop und Punk. Schon ihre beiden Vorgängeralben "More Parts Per Million" und "Fuckin A" begeisterten Fans und Kritiker. Denn diese waren unkompliziert, direkt, prägnant und einprägend.
Meisterwerke, die nicht mal eine halbe Stunde Spielzeit hatten und auf denen kaum ein Song die Dreiminutenmarke knackte, fabrizierten die Thermals damals.
The Body, The Blood, The Machine ist also Streich Nr. 3 der Thermals. Und es ist ein Konzeptalbum geworden. Ein Konzeptalbum von den Thermals? Richtig gehört. Das Album umreißt das Szenario, dass christliche Fundamentalisten in den USA ein Faschistenregime errichtet haben. Gar nicht mal so abwegig, oder? Sie haben sich definitiv weiterentwickelt. Das Album knackt die berühmte halbe Stunde und die meisten Tracks sind länger als drei Minuten. Aber können die überhaupt die Spannung in einem Song solange aufrechterhalten? Denn bisher verfolgten sie schließlich ohne wenn und aber das Motto "In der Kürze liegt die Würze". Aber don´t worry. Die Taktikumstellung hat reibungslos funktioniert.
The Thermals sind spielerischer geworden, fahren auch mal musikalische Umwege, nehmen hier und da auch mal das Tempo raus und klingen glatter. Aber das stellt nur eine logische Konsequenz einer aufwändigeren Produktion dar. Eine Produktion wie bei "More Parts Per Million" die nur 60 Dollar kostete und daher ihren besonderen Garagencharme hatte, wird es wohl nicht mehr geben. Der Lo-Fi Sound vergangener Tage ist jedoch nicht weg. Ein bißchen davon steckt in jedem Song. Sie haben ihre Wurzeln, welche auch ihr Erfolgsrezept darstellen, nicht vergessen. Das beste Beispiel für die Beibehaltung alter Tugenden ist der Opener "Here´s Your Future". Der hätte auch auf jedes andere Album der Thermals gepasst. Schrammelnde Gitarren, ein wenig Garagengefühl und kurz und gut.
"Power Doesn´t Run For Nothing" beleuchtet dann die Weiterentwicklung der Band. Sage und schreibe 5 Minuten und 14 Sekunden Thermals-Action haben wir hier. Beachtenswert hier vor allem der längere instrumentale Teil der den Schluss einleitet. So was hätte es früher nicht gegeben. Aber genauso wie früher ist die Dichte der Spezies Ohrwurm auf "The Body, The Blood, The Machine" angesiedelt. "A Pillar Of Salt" zum Beispiel stellt Ansprüche auf den Song des Jahres. Auch der unwiderstehliche Chorus ist nicht mehr zu vergessen. In derselben Liga spielen das gediegenere "Test Pattern" und ein Feger wie "An Ear For Baby". Ach, eigentlich der ganze Rest der Platte ist vom selben Kaliber.
Man wird sich in diese Platte nicht beim ersten Hören verlieben, da sie für ein Thermals-Album zu komplex ist und auch die Erwartungshaltung eine andere gewesen ist. Aber wenn der Hörer "The Body, The Blood, The Machine" genug Zeit gibt wird er alle Feinheiten und Delikatessen entdecken und sich in sie verlieben. Mit an Sicherheit grenzende Wahrscheinlichkeit. Everything´s Thermal!
www.thethermals.com