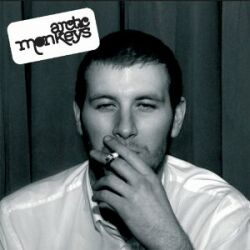 Deutschland ist wieder mal Weltmeister im Warenhandelexport und bald auch wieder im Fußball. Da haben wir einigen Vorsprung vor Großbritannien und alle sind neidisch auf uns. Das ist doch was. Aber Großbritannien ist und bleibt wohl unangefochtener Weltmeister im Export vorzüglicher Gitarrenmusik.
Da blickt der deutsche Musikliebhaber wiederrum mit Neid auf die Insel. Es vergeht schließlich kaum eine Woche, in der nicht ein neuer Hype über den Ärmelkanal auf das europäische Festland schwappt. Die nächste Big Sensation von der Insel sind die überschwenglich gefeierten Arctic Monkeys mit ihrem Erstlingssilbering "Whatever People Say I Am That´s What I´m Not". Und der hat es wahrlich in sich. Skepsis ist natürlich wie bei jedem anderen Hype angebracht, aber diese löst sich nach dem ersten Hören schleunigst in Luft auf.
Aber was unterscheidet die Arctic Monkeys von den anderen Inselbands wie Franz Ferdinand, Maximo Park und Konsorten? Ist es die Unbekümmertheit und die Jugendlichkeit? Sind es die Geschichten, die sie mit ihren Songs erzählen und die Melodien, die sie umgeben? Schwer zu sagen. Natürlich sind Einflüsse da, aber die Arctic Monkeys machen irgendwie ihr eigenes Ding und versuchen sich nicht im Fahrwasser der oben genannten Britpopkönige der letzten Jahre.
"Don´t Believe The Hype" - genau das behauptet Alex Turner zu Beginn des ersten schlichten aber genialen Videos zu "I Bet That You Look Good On The Dancefloor". Schon ziemlich abgeklärt für einen nicht mal zwanzigjährigen Typen. Aber glaubt ihm nicht. Believe the hype. In diesem Fall stimmt ausnahmsweise mal alles, was die Vögel von den Dächern diverser Musikzeitschriftenredaktionen zwitscherten. Allein die Tatsache, dass die Herren große Hallen ausverkauften, obwohl nur Demos im Internet im Umlauf waren, spricht für sich. Respekt, die Herren. Welch Werdegang im so harten Musikbiz.
Aber genug geredet. Jetzt mal zum wesentlichen: Die Songs. Manch einer, der sich in die vielen Demos verliebte, hegte heimlich die Angst, dass die fertigen Songs zu glatt produziert sind und weder Kanten noch Ecken aufweisen. Aber ruhig Blut. Alles ist gut geworden. Sogar besser als das. Lieder sind da drauf, die willst du gar nicht mehr vergessen und am liebsten mit in die Uni oder ins Bett nehmen. "A Certain Romance" und "I Bet That You Look Good On The Dancefloor" sind nur zwei davon. Das Erstere etwas ruhiger mit enormen Coolnessfaktor und mit Ambitionen auf den Song des Jahres. Das Andere sorgt dann für gutes Aussehen auf der Tanzfläche - Tanzschuhe rausholen nicht vergessen. Schmunzelnd nimmt man auch den sehr britischen Akzent des Sängers auf. Gibt dem ganzen noch das gewisse britische Etwas. Teatime.
Ruhiger können sie auch, das bleibt aber die Ausnahme. "Mardy Bum" und "Riot Van" sind so welche, müssen sich aber nicht vor ihren lauteren Kollegen verstecken, da sie auch den richtigen Nerv im Gehörgang treffen. Last night these two bouncers / And one of em's alright / The other one's the scary one / His way or no way, totalatarian. Diese Anfangssequenz von "From The Ritz To The Ruble" wartet dann fast mit Sprechgesangattitüde auf und erinnert an die Kollegen von The Streets. Wieder ein enorm hoher Coolnessfaktor. Ich friere. Der nächste Star der Platte ist "When The Sun Goes Down". Ernstes Thema (Prostitution) aber dennoch fröhliche Melodien zum lieb haben. 40 Minuten und 58 Sekunden Saturday Night Rock Fever.
Skippen ist bei dieser Platte nicht. Und es ist jetzt schon sicher, dass "Whatever People Say I Am That´s What I´m Not" am Ende des Jahres in jeglichen Polls und Abstimmungen in den Top 3 befinden wird. Darauf setze ich fünf Euro. Alles in Allem Coolnessfaktor 10.
www.arcticmonkeys.com