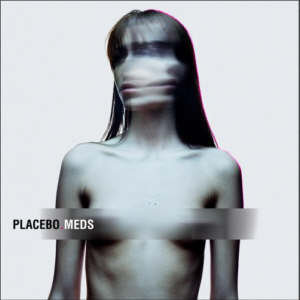 Nachdem Ende 2003 das letzte und erfolgreichste Placebo-Album "Sleeping with ghosts" herauskam, war es seitdem studiotechnisch eher still um die 3 Paradiesvögel geworden. Es folgten eine Live-DVD, eine Best-of Single-DVD & CD und zwischendurch war Brian Molko noch mit Timo Maas im Studio gewesen, um für den mittlerweile weit über die Elektro-Kreise recht bekannten Track "First Day" einige Gesangsparts einzuspielen.
Doch nun sollte es wieder ans Eingemachte gehen und man begann sich auf alte Qualitäten zu besinnen bzw. im Studio 13 Stücke zum neuen Longplayer einzuspielen.

Das Cover der neuen CD erinnert doch sehr stark an die beiden Cover der Best-of Single-collections: Placebos Spiel mit der Nacktheit eben. Und auch beim Einsteiger-Track fühlt man sich direkt in eine ältere Placebo-Zeit und zwar genau in das Jahr 98 zurückgeworfen: Der Gitarrenriff am Anfang von "Meds" (was auch praktischerweise gleichzeitig der Albumtitel ist) erinnert doch extrem stark an den Tanzflächenkracher "Every you, every me" - und das regt logischerweise den Appetit auf die weiteren Früchte des Albums an!

Das Lied selbst stellt sich als absoluter Glücksgriff aus der Placebo-Kiste heraus und die Stimme von Alison Mosshart (alias VV) - ihres Zeichen Frontröhre bei The Kills gibt dem Lied noch den letzten Schliff. Folglich liegt damit die Messlatte für den Rest des Albums schon zu Beginn enorm hoch.Jedoch geht es mit "Infra-red" fröhlich weiter im Akkord: Ein schleppender
Start, doch dann wird der Schalter schlagartig auf "Rock" umgelegt und das Lied offenbart seine Stärken. Mit "Drag" folgt eines der typischen und guten Placebo-Stücke und anschliessend reiht sich mit "Space Monkey" eines der wenigen Lieder des Albums, mit dem ich selbst nichts anfangen kann ein: Es klingt holprig, man schleppt sich mühsam durch das Lied und möchte am Liebsten schnell einen Track weiter drücken.
Dieses Lied macht aber - Gott sei Dank - nur die einzige, kleine Schwachstelle des Albums aus. Mit "Follow the cops back home" und besonders mit "Post Blue" können Placebo letztendlich wieder auf der
ganzen Strecke überzeugen. "Because I want you" (die 2.Singleauskopplung des Albums)und "Blind" reihen sich da nahtlos ein und mit "Pierrot the Clown" folgt das ruhigtste Lied des aktuellen Silberlings.

Für das nächste Lied "Broken promise" hat man sich den zweiten Gastmusiker ins Boot geholt und dabei an keinen geringeren wie Michael Stipe von REM gedacht, was das Lied zu einem der zahlreichen Aushängeschilder dieses Albums werden läßt. Nach 2 weiteren überzeugenden Tracks wird mit der
aktuellen Single "Song to say goodbye" passend das Ende zu diesem Meisterwerk eingeläutet.

Das Fazit von mir fällt für das Trio auch dementsprechend gut aus: Ein durchweg überzeugendes Album, was einmal wieder imposant offenbart, wie sehr Placebo in den letzten 10 Jahren gereift sind und wie viele Facetten sie doch mittlerweile in jedes Album einbauen können, ohne ins Stolpern zu geraten - und gerade das macht eine erfolgreiche Kapelle aus, die über Jahre hinweg bestehen und am Ende ganz oben stehen möchte. Und ganz oben, da sind sie ja mittlerweile fast angekommen.