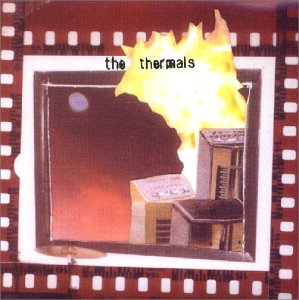 Die Thermals sind eine dreiköpfige Band aus Portland, Oregon. Mit ihrem Debütalbum "More Parts Per Million" gelingt ihnen ein Debüt nach Maß. Sänger, Songwriter und Gitarrist Hutch Harris nahm das Album im Frühling 2002 in kurzer Zeit auf einem Kassettenrekorder auf (!!!), wobei sich die Kosten für die Aufnahme des Albums auf 60 Dollar beliefen.
Und gerade diese Tatsache macht dieses Album zu etwas ganz besonderem. Der NO-FI Sound, das rohe und ungeschliffene, lässt hier eine Band mit großer Zukunft erkennen.

Gleich der erste Song des Albums "It´s Trivia" lässt keine Fragen mehr offen. Musik ohne Kompromisse, ohne Umwege. Aber nun die berühmte Frage, die auch Werner Hansch und Gerd Rubenbauer immer wieder stellen: Kann dieses Anfangstempo gehalten werden oder bricht die Mannschaft um Hutch Harris ein? Aber auch "Brace and Break" und "No Culture Icons" sind Volltreffer. Vor allem "No Culture Icons" ist ein Lied der Superlative, quasi der Superstar der Platte. Wie ein Beckham in Madrid oder ein Kahn in München. Eine Melodie die im Ohr hängen bleibt und ein Refrain zum Mitsingen. Stadionatmosphäre. Aber es bleibt keine Zeit zum Luft holen. "Goddamn the Light", "Out of the Old and Thin" und "I Know the Pattern" rocken sich noch mal die Seele aus dem Leib.

Krachende Gitarren und Melodien mit einer Brise Pop. Sub Pop eben. Jetzt ist Halbzeit. Selten eine so gute erste Halbzeit gehört. Es wurde nur gestürmt. Nichts mit hinten reinstellen und erst mal abwarten. So, den Schweiß abgewischt und weiter geht's. Mit "Time to Lose" wird etwas langsamer losgelegt. Aber das bleibt auch die Ausnahme. Der erste Pfostenschuss. Aber danach wird wieder gestürmt. Über "My Little Machine" und "Overgrown, Overblown" zu "A Passing Feeling" und "Back To Gray". Die Massen sind begeistert. Sie wollen mehr. In der Nachspielzeit wird mit "Born Dead" und "An Endless Supply" der Kantersieg perfekt gemacht.

Das Spiel ist aus. Die Thermals gehen als Sieger vom Platz. Jetzt brauch aber auch ich erstmal eine kurze Pause zum Schweiß abwischen. Das Debüt der Thermals sind 28 knackige Minuten mit dreizehn Songs, die nur so vor Kraft strotzen und danach schreien die Tanzflächen zu erobern. Respekt.