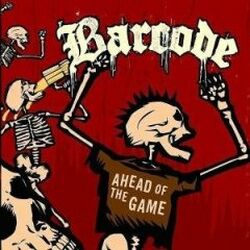 Wenn ein Sänger eine Band verlässt, ist das bitter, zumal er fast immer das Aushängeschild der Combo darstellt. Ein Gitarrist, Bassist oder Schlagzeuger ist meistens noch ersetzbar, aber wenn die Stimme einer Gruppe das Weite sucht entsteht zumeist großer Schaden. Als Anfang 2006 Sänger Butch die Band verließ, hatte ich schon große Sorgen, daß es mit Barcode überhaupt noch ordentlich weitergehen sollte.
Der nun neu gefundene Sänger und Vocalist des neuen Albums des fünfers hört auf den einfallsreichen Namen 'SS Graveyard' und bringt die Band gesangstechnisch gesehen in eine neue Richtung. Da ich Barcode vor allem während der Stimme des alten Sängers hörte, war ich zunächst skeptisch, ob sie das Level der alten Alben halten könnten. Aber sie haben aus der Misere was gemacht!
'Ahead of the game' schlägt musikalisch gesehen in die gleiche Kerbe wie sein Vorgänger 'Showdown'. Fratzengeballer auf der ganzen Linie und die Dänen spicken ihr Album mal wieder mit schicken Breakdowns und den üblichen Riffs. Textlich gesehen passt die Scheibe ziemlich gut in die Hardcoreszene - texttechnisch wenig Einfallsreichtum, dafür aber hart und herzlich (->'Fuck what you say').
'All out war' kommt als ziemlich fetter Track daher und bei 'Emo nation' wird mit der entsprechenden Musikanhängerschaft abgerechnet - recht lustiger Text und natürlich darf da auch der Mitgröhlfaktor nicht fehlen. Was folgt ist der unbestrittene Höhepunkt der Platte: 'Course of action' mit Lou Koller am Mic.
Unglaublich guter Track, bei dem so ziemlich alles stimmt - da bringt die Stimme vom Sick of it all-Frontmann doch wirklich frischen Wind in den Track. Danach dümpelt die Platte vor sich hin und so langsam macht sich doch das Fehlen des alten Sängers bemerkbar. Klar, das Album ist auf jeden Fall fett und der neue Shouter macht seinen Job gut - aber irgendwie hat man das was man in den 30 Minuten geboten bekommt schon zig Mal gehört. Mit 'Built to destroy' kommt kurz vor Ladenschluss nochmal ein Lichtblick: Netter Track, wieder zum Mitgröhlen geeignet und live sicher ein Knaller. Mit 'Ahead of the game' ist dann schließlich schluss und man fragt sich, wie man das findet, was man da soeben gehört hat. Gemessen an dem, was man bisher von Barcode kannte, ist es insofern ein Schritt zurück, daß man die Stimme des Sängers doch sehr vermisst und er eine Lücke hinterlässt. Gemessen an der Intensität und der Schlagkraft des Albums, hat Barcode in der Szene auf jeden Fall Zukunft und ein gutes Werk abgeliefert!