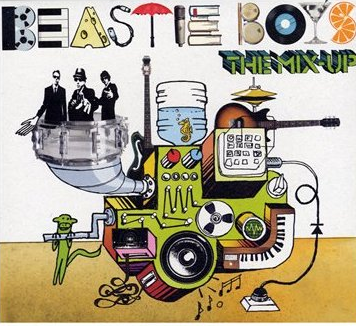 Ein Album der Beastie Boys entspricht einem Freitagabend an dem man nichts weiter geplant hat. Kein Plan was man machen könnte, man lässt es einfach mal auf sich zukommen. Im Endeffekt wird es sowieso anders als erwartet, aber meistens ziemlich geil.
Im Jahre 2004, also geschätzte Zwölf Millionen Jahre nach dem famosen "Hello Nasty", das vor Abwechslung nur so strotzt, bringen die Beastie Boys das Old School durchtränkte "To the 5 boroughs" raus und enttäuschen mich auf ganzer Linie. Aber nur zunächst. Nach einigen Durchläufen kann ich mit den eher spartanischen Beats jede Menge Spass haben.
Als ich dann in diesem Jahr höre, dass die Jungs mal wieder was Neues an den Start bringen bin ich begeistert. Rein instrumental also. Was teilweise in der Vergangenheit am Rande bewiesen wurde, bewahrheitet sich nun auch wieder. Auch diesen eher schweren Akt meistern die Beastie Boys mühelos.
Was einem hier geboten wird ist schön ein feines Stück Musik, sei es nun beim exotischen "Dramatically Different", beim rockigen "The Cousin of Death". Das Teil könnte locker als Hintergrundmusik für das längst vergessene "Interstate 76" oder aber dem aus eigenem Hause entstandenen "Sabotage"- Video fungieren. Dicke Koteletten, Pornosonnenbrillen und Muscle-Cars gibt's bei Stücken wie "B for my name" oder "Electric Worm" ebenso verständlich dazu, wie jede Menge funky Melodien. Da pluckert der Bass, hier setzt die Percussion ein und obendrüber spielt eine wahwah gebeutelte Gitarre.
Klar könnte "The Mix-Up" auch von jeder x-beliebigen Band eingespielt worden sein, weil einige Beastie Boys Trademarks, wie etwa die prägnante Stimme von Adrock fehlen. Dennoch kein Grund zur Panik. Wobei ich zum Schluss noch bemerken muss, dass ich das Teil eher beim Aufwärmbier über die heimische Anlage als beim anschliessenden Abtanzen in der Disko hören würde. Achja, für die Hangover am nächsten Tag passt die Musik ebenfalls perfekt. Fast schon ein Rundum sorglos Paket. Wenn da nicht die Party die wär…