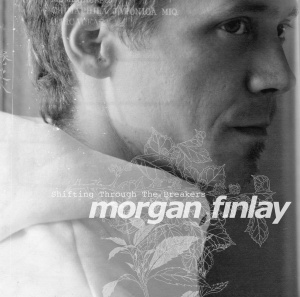 Vor ein paar Wochen stellten wir euch die Platte von David Celia, einem kanadischen Songwriter vor. Jetzt liegt wieder ein Album eines Solokünstlers aus dem Land des Ahornblattes vor. Der gute Mann nennt sich Morgan Finlay.
Der Name dürfte in Deutschland ziemlich unbekannt sein. Ob sich daran was ändert lässt sich schwer Vorraussagen. Wieso?
Die Musik, die der Herr Finlay macht, lässt sich als eine Quersumme der Goo Goo Dolls und Jack Johnson beschreiben. Sprich Massenkompatible Gitarrenmusik, die aber eigentlich immer noch gerade so in Ordnung geht. Mit "(in)Security" legt "Shifting through the brakers" sogar noch mehr als ordentlich los. Ein nachdenklicher Text, unterlegt mit

Akustikklampfe, die zum Ende hin von einer traurig – schönen Geige unterstützt wird. Herrlich.
"Merge", "Night at the mercury" und "Sound of Industry" sind eben jene Mainstream - Radiolieder, die nicht wirklich im Gedächtnis bleiben. Mit "Bei dir sein" hat sich ein Lullaby mit deutschen Text eingeschlichen, das jedoch mit kanadischen Akzent und eher hölzernen Satzbau unfreiwillig komisch anmutet. "I meant to get you back" ist eine Blaupause von Song Nummer 2 und 3. Eher langweilig. Bis schließlich das französische "Mourir d'envie" und "Take the edge off" an der Reihe sind und das Album retten.

Echte Gefühle stehen Morgan Finlay

wesentlich besser als Plastik-Power-Pop was eben jene zwei Songs eindrucksvoll beweisen. "Mescaline" geht in Ordnung. "Blessing und Burning" hingegen bleibt blass.
Die Frage aus der Einleitung bleibt bestehen. Wird Finlay in Deutschland bemerkt? Gute Frage, ich tippe auf "Nein", ist die Musik dieses Mannes doch so sehr an große Vorbilder angelehnt, die in Germany eher auf Ami-Sendern gespielt werden. Howie Day sucht man in regionalen Sendern vergebens, die Goo Goo Dolls sind auch eher nur Randnotizen. Schlechte Karten für Finlay, der zumindest die Radiolandschaft durchaus bereichern könnte.
Vertrieb: Radar / Label: Sound of Radiation