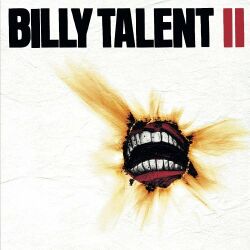 Billy Talent aus Kanada haben das erreicht, wovon viele Bands träumen, die immer noch in der Versenkung rumdümpeln: Einen extrem erfolgreichen ersten Longplayer auf den Markt werfen, entdeckt und heiß und innig geliebt zu werden und anschliessend eine lange Zeit durch die ganze Welt zu touren.
Nun erscheint also der neue Silberling des Vierers und die Erwartungen sind natürlich von Seiten der Fans und auch der internationalen Musikpresse extrem hoch.
Viele Bands, die von 0 auf 100 schiessen zerbrechen an diesem Erfolgsdruck und können nach einem zweiten Album kein weiteres abliefern, was dem Durchbruchswerk das Wasser reichen konnte. Um im Gespräch zu blieben muss man daher im Besten Falle ein besseres Werk abliefern, oder zumindest ein gleichwertiges. Da kommt es natürlich überraschend, daß die Jungs von Billy Talent ihr zweites Werk "Billy Talent ii" betiteln. Es stellt sich folglich die Frage: Bleibt also alles beim Alten? Wird die gleiche Spur gefahren, oder kann man vielleicht sogar ein paar Experimente erwarten. Hier gibt es die Antwort:

"Devil in a midnight mass" macht den Anfang auf der 13-Lieder starken CD. Druckvoller Sound, typischer Billy Talent-Gesang und auf jeden Fall ein Tanzflächenfeger, der dem eingefleischten Fan gerade recht kommen dürfte. Dass die Band sich oft mit den Problemen von Jugendlichen beschäftigt wurde ja schon bei ihrem ersten Album klar, als man sich mit "Nothing to lose" über Außenseiter und ihren Selbstmordgedanken ausließ. Im Opener von "Billy Talent ii" beschäftigt man sich nun mit dem sexuellen Mißbrauch von Pfarrern an Jugendlichen und den Folgen - angelehnt an einen Fall aus Boston. Sicherlich ein heikles Thema, aber auch immer wieder aktuell. "Red Flag" war ja vielen schon vorher bekannt, da es schon seit vielen Monaten im Internet als Demo kursierte oder auf und nun für den neuen Longplayer neu eingespielt wurde. Schönes Lied, ebenfalls druckvoll und zum mitsingen geeignet. Bis jetzt also alles beim Alten.

Bei "This suffering" schaltet die Band einen Gang zurück und lässt es etwas gemütlicher angehen. "Worker bees" kommt im ähnlichen Stil rüber und bei "Pins and needles" begibt man sich mal wieder in die Herzschmerzecke. Jedoch wird das ganze jetzt nicht im rasenden Stil wie bei "The Ex" vom alten Album verarbeitet, sondern sehr ruhig und gemäßigt. Erst nacht knapp 2 Minuten geben die Jungs dann mal wieder etwas Vollgas um kurz danach aber wieder gleich auf die Bremse zu treten. "Fallen leaves" fängt mit einem ziemlich eingängigen Riff an und dürfte live nach wenigen Sekunden die ganze Zuschauerbelegschaft zum abhüpfen bringen. Eigentlich kein beinharter Billy Talent Song, gefällt mir aber persönlich ziemlich gut, da sich der Refrain ziemlich schnell im Kopf einprägt. "Where is the line?" ist mal wieder ein extrem fulminantes und geiles Lied, was sich schnell im Hirn festsetzt und da auch erst einmal verweilen mag. Bei "Covered in cowardice" wird mal wieder in alter und gewohnter Billy Talent-Manier gekrischen - auf jeden Fall ein Lied, was man auch auf der alten Platte hätte wiederfinden können. Bei "Surrender" wird dann die total ruhige Gummikeule ausgepackt - ein Lied, was man so von der Band noch nicht gewohnt war. "Perfect world" fängt vom Riff her extrem vielversprechend an und nach 15 Sekunden denke ich, daß mir gleich die Faust ins Gesicht saust - Pustekuchen. Man schaltet mal wieder einen Gang zurück und ich senke enttäuscht denk Kopf. Eigentlich kein schlechtes Lied, aber leider verspricht der Anfang verspricht mehr, als das Lied an sich bieten kann. "Sypmathy" rockt gut ab und dürfte auch keinen Billy Talent-Fan enttäuschen.

Fazit:
Billy Talent hat an Power keineswegs verloren, sondern sie dieses Mal einfach nur sparsamer und gezielter eingesetzt. In viele Lieder muss man sich sicherlich noch reinhören und Tracks wie "Surrender" ist man von ihnen einfach nicht gewohnt, was jedoch nicht heißen muss, daß sie keinen Kultcharakter und Hitpotential haben. Man kann also sozusagen festhalten, daß die Mission "Noch einen guten Schinken hinterherlegen" durchaus geglückt ist. An den hohen Erwartungen, die diesem Album beigemessen wurden werden sie sicherlich nicht zu Grunde gehen!