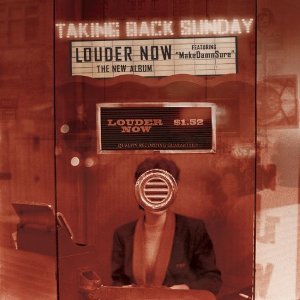 Rückblende. Wir schreiben das Jahr 2003. Das Jahr meines Abiturs. Ich setze mich morgens in mein Auto, um in die Schule zu fahren. Die Sonne scheint und es ist warm. Aber überhaupt keine Lust auf Mathe, Englisch und Konsorten. Ich komme in der Schule an, steige aus dem Auto aus und lache. Alles halb so wild. Das Leben ist schön. "Tell All Your Friends" auf der Fahrt gehört.
Gegenwart. Wir schreiben das Jahr 2006. Das Jahr eines warmen Sommersemesters. Ich stehe an der S-Bahn-Haltestelle und habe überhaupt keine Lust auf langweilige Vorlesungen mit Einschlafcharakter. Ich komme in der Uni an, steige aus der S-Bahn aus und alles ist so wie ich eingestiegen bin. "Louder Now" auf der Fahrt gehört. Aber warum?
Diese Entwicklung war leider nach dem zweiten Longplayer "Where You Want To Be?"
vorweg zu sehen. "Louder Now" hängt das gleiche Problem an wie seinem Vorgänger. Zwei oder drei Songs die begeistern und fesseln. Aber der Rest ist Durchschnitt und könnte von jeder anderen Band aus dem Genre stammen. Wo ist die Energie und die Durchschlagskraft von "Tell All Your Friends"? Lieder bei denen du ausflippen möchtest und denen du einfach nicht entkommen kannst. Vielleicht haben Bassist Shaun Cooper und Gitarrist John Nolan diese fehlenden Elemente mitgenommen als sie die Band verließen. Who knows?
Die einzigen Tracks die voll und ganz zu überzeugen wissen sind "Liar", "Twenty-Twenty Surgery" und "Make Damn Sure". Vor allem letzteres ist von enormen Potential, da hier die alten Stärken der Band vorblitzen. Wenn Adam Lazarra "I just wanna break you down so badly" schmettert und Fred Mascherino "In the worst way" hinterherwirft entsteht ein Chorus der Extraklasse. Solch ein Niveau konnten sie früher locker aus dem Ärmel schütteln. Heute fällt ihnen das anscheinend schwerer. Tracks wie "Miami" und "Divine Intervention" sind dann der Inbegriff für das Dilemma in dem Taking Back Sunday stecken. Langweilige Gitarren, keine begeisternden Gesangsdoppelpässe. 0815. Leider.
Vielleicht beamen sich Taking Back Sunday mal zurück in das Jahr 2003 und suchen nach ihren Stärken, so dass ich bei der nächsten Rezension im Jahre 2009 in einen Firmenwagen der gehobenen Mittelklasse einsteige, keine Lust auf Arbeit habe und beim Aussteigen lache und mir denke: Das Leben ist schön.
www.takingbacksunday.com