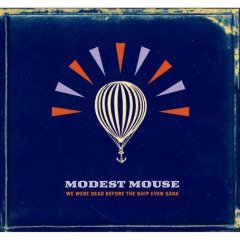 Modest Mouse sind ein Phänomen. Alkohol geplagter Poet á la Charles Burkowski mimt den Sänger, jahrelange (unabsichtliche) Ignoranz der europäischen Medienwelt und schließlich 2004, "Float on" ein Singalong erster Kajüte.
In jeder Rockdisse auffindbar. Ja, so fing es an. Das dazugehörige Album was auf den kurzen Namen "Good news for people who love bad news" hörte, wandelte die Band vom Geheimtip in Everybody's darling. Und das völlig zu Recht.
Waren die ersten Alben der Band noch zu roh, zu ungeschliffen, um für jedermann zugänglich zu sein,
setzte "Good news…" zwar auf die gleiche Schrulligkeit seiner Vorgänger, versah der ganzen Angelegenheit aber noch jede Menge Eingängigkeit, die man früher nur von Songs wie "Dramamine" kannte.
In der Neuzeit angekommen bauen Modest Mouse das bestehende Erfolgskonzept logisch aus. Sie setzen die Single "Dashboard" ungefähr an dem Punkt an, an dem "Float on" die Segel strich.
Schließlich geht es mit "Fire it up" und "Florida" derart beschwingt in die nächste Runde, dass einem die Luft wegbleibt. Unglaublich wie schwindelfrei die Jungs diesen schmalen Grad zwischen Radio – Mainstream und ungezwungener, barrierefreier Gute Laune Mucke bewandern. Völlig lässig, mit verbundenen Augen gegenüber Abgründen der Kritik, in die man als angehender Hype fallen könnte. Wenn es einem wichtig wäre.
Nicht nur textlich "Who the hell make you the boss?", sondern auch musikalisch wird hier die Spreu vom Weizen getrennt. Langsam türmt sich " The Parting of the sensory" vor einem auf. Wie dunkle Wolken brauen sich die Gitarren zusammen, um sich im absoluten Chaos eines Polkabeats zu entladen. "We've got everything lockt mit fluffiger Melodie. "Fly trapped in a jar" und "Education" kontern mit altbekannter Schrulligkeit, um schließlich den Weg für die wahren Höhepunkte in Form von "Motel" , des sich drehenden und wendenden "Spitting Venom" und dem grösseren Bruder eines "Life like weeds" namens "People as places as people" frei zu machen. Wer diese drei Stück überstanden hat, braucht Modest Mouse nicht mehr zu beschimpfen, dass sie jetzt einen auf Pop machen. Leicht verwirrt zieht man als Redakteur ein Fazit, stolpert über Formulierungen, streicht komplette Textpassagen aus der Rezession. Die Band und das Album erfordert Aufmerksamkeit, die sie sicher auch von einer breiten Masse bekommen können. Eine bessere, abwechslungsreichere
Platte im Recht jungen 2007 zu finden wird schwer werden.
March on, Modest Mouse, march on. You're the places that I want to go.