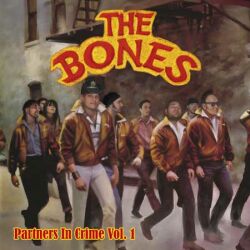 The Bones dürften so langsam ziemlich jedem Fan von gepflegten Rock 'n' Roll ein Begriff sein. Der sympatische Schweden-Vierer tourt seit etlichen Jahren durch die Lande ohne auch nur mal ein klein wenig an Pause zu denken. So kam es dazu, daß man die Truppe um Beef Bonanza in den letzten Monaten desöfteren mal live im Rhein-Main gebiet zu Gesicht bekommen konnte und aufgrund ihrer Livequalitäten nie enttäuscht wurde. Aalglatter Import-Rock n Roll der höchsten Spielklasse eben.
Nun haben es die Jungs mal wieder ins Studio geschafft und gleich eine ganze Horde Gastmusiker im Schlepptau gehabt um diverse Coverversionen einzuspielen. Herausgekommen ist dabei "Partners in Crime Vol.1". Nach drei Alben und 2 EPs versucht man sich nun also am Covern und hat sich dabei durchaus das ein oder andere Schmankerl rausgesucht.
Los geht es mit einer Coverversion von den Ramones, bei denen sich Lou Koller von Sick of it all und Roger Miret von Agnostic Front am Mikro verausgaben können. Sehr gelungener Track, bei dem es auf keinen Fall beim einmaligen Anspielen bleibt! Als nächstes versucht man sich am Übertrack "Yesterdays hero" von den Bay City Rollers, bei dem Mike McColgan von den Street Dogs dem Song seine Stimme leiht - edelst kann man da nur sagen!
Weiter geht es mit "It's my life" , was im Original von Wendy O Williams vorgetragen wird, jedoch von keinem geringeren als Gene Simmons und Paul Stanley von KISS geschrieben wurde. Die Vocals kommen hier von Mia Coldheart, die einem von der Band Crucified Barbara ein Begriff sein dürfte. Jedenfalls ist "It´s my life" einer der Anspieltipps auf der Platte. Es reiht sich anschließend "Home swing hell" als Bones-Hit nahtlos ein, dicht gefolgt von "Psycho dad" von Al Bundy, der ebenfalls völlig überzeugen kann!
Den Absch(l)uss macht dann ein geniales Social Distortion-Cover "King of fools", wo man recht passend den Backyard Babies-Sänger Nicke Borg und Mia Coldheart als Backgroundsängerin verpflichtet.Genialer geht es kaum und der Plan geht völlig auf.
Wie man aus der Platten"kritik" raushören dürfte, ist der Silberling ein absoluter Pflichtkauf. In 18 Minuten bekommt man dermaßen was geboten, daß einem die Ohren schlackern. Da kann man nur raten schnellstens zuzugreifen.
Ende der Durchsage!
www.bonesrocknroll.com