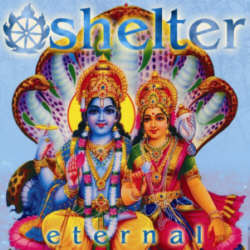 2002 wurde das offizielle Ende Shelters von keinem geringenen als dem Band-Frontguru und Mastermind Ray Cappo bekanntgegeben. Zu dieser Zeit war im Grunde auch niemand so richtig böse auf den Buddhismus-Fan, die beiden zuletzt veröffentlichten Alben "When 20 summer pass" und "A purpose and a passion" scheiterten an der eigenen Messlatte, die mit dem 95er "Mantra" relativ hoch lag.
Überspringen konnte diese keine der folgenden Veröffentlichungen. Das Auflösen der Band war ein logischer Schritt.
Urplötzlich bringt der gute Herr Cappo knapp vier Jahre nach diesen unheilschwangeren Worten von Auflösung und Bandende gerade wieder ein Album unter dem Flagschiff Shelter auf den Markt.
Hare-Krishna-Figuren auf dem Cover und vielsagende Titel wie "Lotus-Like" oder "Return to Eden" zeigen an, das immer noch fernöstliche Religionslehre auf dem Programm steht. Kaum zur Hälfte gehört - sprich nach knapp 15 Minuten - drängt sich einem die Frage auf, aus welchem Beweggrund und vor allem mit Rechtfertigung "Eternal" erscheinen darf ? Belangloses Schlagzeuggepoppel, Schrammelgitarren und das markante Organ von Suppenca(s)ppo Ray.
Das ist nichts neues, sondern nur der dritte oder vierte lahme Aufguss, des gleichen Rezepts, das schon seit knapp zehn Jahren niemanden mehr so richtig schmecken will. Aus gutem Grund.