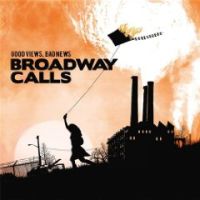 Dass die Damen und Herren von Sideonedummy-Records durchaus ein Händchen für Goldnuggets haben, konnten sie in der Vergangenheit bereits bei The Gaslight Anthem beweisen.
Dass sich diese in den letzten Monaten europaweit – nicht auch zuletzt auf ihrer ständigen Livepräsenz - in die Herzen der Fans gespielt haben, und somit von einem Geheimtipp zum Kassenschlager wurden, steht außer Frage. Ähnlich soll es nun auch mit den Broadway Calls und ihrem neuen Longplayer "Good views, bad news" klappen.
Was die Liveaktivitäten angeht, stehen die drei Jungs aus Rainier in Oregon den Gaslightern in nichts nach. Seit ihrer Gründung vor vier Jahren waren sie fast ununterbrochen auf Tour und eröffneten dabei für Bands wie Rancid, Bad Religion, Alkaline Trio oder The Offspring. Damit dürfte die musikalische Marschrichtung im Grunde genommen ja auch klar sein: (Melodischer) Singalong Punkrock. Dass mit Bill Stevenson, der auch schon für die Descendents an den Trommeln saß, ein großartiger Produzent ins Boot geholt wurde, kann sich dann letztendlich nur positiv auf das fertige Produkt auswirken.
Die elf Songs auf etwa 30 Minuten wirken in sich sehr stimmig und bieten von mitreißenden Pop-Punk Hymnen ("Be all that you can´t be", "Wake up call") bis hin zu der sehr gelungenen Ballade ´"At the end" eigentlich alles, was für Fans von Lifetime, Green Day oder auch Jawbreaker interessant sein dürfte. Wer mit letzteren Bands etwas anfangen kann, sollte sich auf jeden Fall einmal in die neue Scheibe des Trios reinhören, bevor die Jungs im November auch in Deutschland auf Tour kommen!
VÖ: 21.08.2009 auf Sideonedummy Records / Vertrieb: Cargo