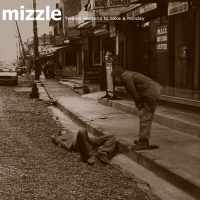 Dem deutschen Tourismus geht es schlecht. Finanzkrise und allgemeine Arbeitslosigkeit lassen die Menschen jeden Cent umdrehen. Mizzle liefern mit ihrem Twelve reasons to take a holiday zumindest dem Titel nach eine Art Gegendemo im Indie-Format ab.

Stilistisch geht die Musik der vier Kölner (ok, der Sänger und Bandkopf kommt aus den Niederlanden) als Ode an Pink Floyd und die Bands der 70er, die Psychedelic-Luft geschnuppert hatten, durch . Ausufernde Soli sucht man jedoch vergebens.

Mizzle konzentriert sich eher auf die leisen Töne. Jede Menge Akkustikgitarre und eher zurückhaltende Kollegen von der E-Gitarrenfront. Ausnahmen, wie Absolution und das punkig scheppernde The sun is always shining schlagen hier seismographisch aus.

Die Homepage der Band erinnert übrigens frappierend an die eigentliche Musik, da haben die Jungs ein glückliches Händchen bewiesen. Braun auf braun. Man beschränkt sich aufs wesentliche, was durchaus auch ausreicht. Aber wissen wir bereits aus der Schule, wer nur so rumdödelt, dass er durchkommt, den erwartet maximal eine Vier im Zeugnis.

Vieles klingt gleich und wird schnell langweilig. Schade, denn ausser meiner Aufmerksamkeit nimmt sich hier niemand Urlaub.

www.mizzle-theband.com
VÖ: Juli 2009 in Eigenvertrieb