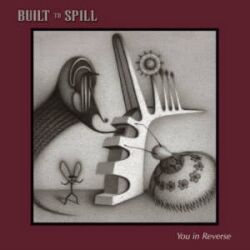 Built to spill sind nach über fünf Jahren mit einer Platte zurück, die einem jetzt, da sie nun da ist, die vergangene Zeit seit dem letzten Album "Ancient melodies for the futures" noch länger vorkommen lässt. Wie ist es möglich, dass man ohne das vorangehende Endlosintro von "Goin' against you mind" sorglos schlafen konnte?
Über zwei Minuten lässt sich die Nuschelstimme des Herrn Doug Martsch Zeit um schliesslich in weiteren sechs Minuten und einigen sich selbst jagenden Soli Platz, für den zweiten Song des Albums zu machen. Der hört auf den Namen "Traces" und ist ein feines Lied und auch hier liegt die überragende Stärke in den Instrumentalparts. "Liar" swingt locker vor sich hin und bleibt dennoch dank Martschs Organ ein eher depressives Stück Musik, "Saturday" folgt exakt dem selben Konzept, bis schliesslich "Whenever you go" wieder dem guten alten Indie-Rock frönt.
Unvergleichlich gradlinig, fast schon frech selbstbewusst, präsentieren sich die Jungs aus Seattle der Öffentlichkeit, als hätte man in den vergangenen Jahren nichts anderes zu tun gehabt als auf einen neuen Output des Trios zu warten. Und mal ganz ehrlich, so ganz im hintersten Eck unseres Herzen haben wir doch gehofft, dass da noch was kommen möge. Holt tief Luft und begebt euch in die letzten beiden Songs, "Just a habit" verabschiedet sich mit einem Wimmer-Solo der Extra-Klasse. Und "The Wait" bildet mit "Goin' against you mind" und "Traces" den Höhepunkt dieses Albums.
Mit einer Ausnahme rangieren hier alle Lieder zwischen fünf und neun Minuten. Mit "You in Reverse" zeigen Built to spill endlich einmal was sie damals auf ihrem grandiosen "Live"-Album haben durchschimmern lassen, nämlich das sie eine verdammt gut eingespielte Band sind, bei der man auch noch die letzte Note einer 20 Minuten Version von Neil Youngs "Cortez the killer" interessant findet. Eine Band die leider nicht gerne nach Europa kommt. Hm, sagen wir es doch mal mit den Worten von Doug Martsch "You wait for something, that make the wait worth to wait". Diese Band ist es mehr als Wert.
Ungehört (und auch unerhört) empfehlenswert.

www.builttospill.com