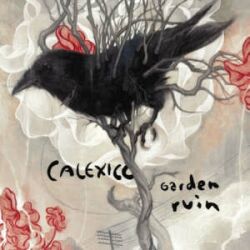 Die Herren John Convertino und Joey Burns sind zurück. Setzen sich mit ihren Melodien (Cruel) an den Tresen verstaubter Truck-Stops, vor denen mindestens drei Pick-Ups eine Südstaatenfahne und eine doppelläufige Schrotflinte an der Heckscheibe hängen haben.
Mogelen sich mit einer Mariachi-Tröte (Roka - Danza de la muerte ) zwischen die Wellblechhütten der Baja California und springen mit ihrer Nom de Plume ins entfernte Quebec um den Soundtrack für eine Grillparty zu bilden.

Die Musik Calexicos ist so vielfältig, wie die Zielgruppe, die sie ansprechen will. Ganz Amerika, sei es nun die Rednecks aus Texas, die Börsianer in New York oder die Hummerfischer in Maine. Sie will sich auf subtile Art in die Hirne der Menschen spielen und nebenbei auf das wichtigste Anliegen der Band aufmerksam machen. "Leute, wacht auf, seit nicht so blind zu denken, dass ihr in einem Land ohne Probleme lebt."

"Every time this happens, it gets harder and harder to build it back again". Was ihr zerschmeisst lässt sich nicht reparieren. Halbe Sachen gibts im Hause Convertino/Burns nicht, manchmal etwas depressiv und nervig. Aber Freunde wollen sich die beiden Musiker sowieso nicht machen, ganz im Gegenteil. Dagegen sein ist die oberste Devise.

Ob es Calexico mit der fehlenden Stadion- und Kommerztauglichkeit eines "American Idiot" oder Fuck it all Attitüde der ganzen Anti-Bands schaffen wird Amerika politisch umzukrempeln, sei nun einmal dahin gestellt. Aber ein schönes Album haben sie trotzdem abgeliefert, da kann man nicht meckern.