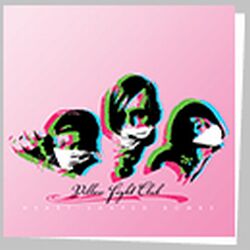 Im Grunde sollte man sich das Teil besorgen und gleich selbst mal reinhören. Der Pillow Fight Club ist eine dieser Bands. Eine wüste Mischung aus Punk, Rock und ner Frontfrau, die zwar schön kreischen kann, aber niemals nervig rüberkommt.
Angepisst und laut ist sie zwar, wirkt aber zu keiner Zeit hysterisch. Vergleiche mit Distillers-Frontfrau Brody Dalle sind nicht zufällig, aber auch nicht richtig treffend. Schwere Sache, dies.

Schon der erste Song "Let me decide", das mit Abstand beste Lied des Albums, gibt richtig Gas, tritt in die sprichwörtlichen vier Buchstaben und ist ohne weiteres für eine friday night dance action zu gebrauchen. Weitere Songs dieses Kalibers finden sich mit dem deutsch/italienischen "Gurkenmenschen from hell" und dem beschwingten "Nova". Den Beweis, das nicht nur geschrien, sondern auch mal ein wenig melancholisch geträllert werden kann, bietet das sechsmütige "Do it". Ausser dem grauenhaft schrägen "Monster in the streets" fällt eigentlich nichts negativ auf. Sicherlich kein Evergreen, aber ich glaube den Anspruch haben die drei (+Drummer) netten Zeitgenossen des Pillow Fight Clubs auch garnicht. Sie wollen Spass machen, wollen laut sein und nebenbei ihre Sicht der Dinge rüberbringen. Dance and go crazy.

Die CD könnt ihr übrigens nur über die Bandhomepage oder auf den absolut sehenswerten Auftritten der Band ergattern. Lohnt sich auf jeden.