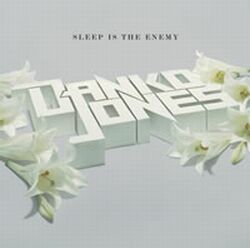 Schon interessant, wozu manche Musiker trotz immensen Arbeitsdrucks so fähig sind. Da nehme man sich doch nur einmal das Beispiel Danko Jones zur Brust: Der Herr tourt eine halbe Ewigkeit mit seiner gleichnamigen Kapelle rund um den Globus, moderiert nebenbei noch seine eigene Radioshow und bringt dann ganz lässig noch ein neues Album unter dem Namen "Sleep is the enemy" auf den Markt.
Und gerade dieses Album zeigt, wie gut Mr.Jones unter Druck funktioniert: 11 Tracks voller Sex-Appeal und Flow - Gehts noch? Jau, geht noch!

Das vierte Output von Danko Jones beginnt so, wie das dritte aufgehört hat: Mit kernigen Riffs, denen man einen gewissen AC/DC-Einfluss nicht absprechen kann: Gekonnt eingesetzte Drums und die unverkennliche Stimme von Danko. Wer sich dem widersetzen kann, muss einen an der Waffel haben. In den 34 Minuten kommt man gar nicht mehr aus dem Staunen heraus. Der Opener "Sticky situation" überzeugt mit hohem Kopfnickerfaktor und der üblichen souligen Rockstimme des Mr.Jones. "Don´t fall in love" besticht mit dem gewissen Charme und einem durchaus interssanten Text. Der ehemalige Angestellte eines Sex-Shops weiß einfach immer noch, wie es geht! "When will I see you" kommt etwas gemäßigter, wenn nicht sogar etwas poppig daher - passt jedoch immer noch herrlich ins Programm. Bei "Invisible" fällt dem aufmerksamen Hörer auf, daß sich Danko ein wenig Verstärkung ins Arschwackler-Boot geholt hat.
Und tatsächlich: Die Kyuss-Legende John Garcia singt ein paar Zeilen mit und leistet somit seinen Teil der Unterstützung. Nicht daß es nötig gewesen wäre, aber schick isses allemal! Den absoluten Knaller hat man sich jedoch dieses Mal für den Schluss aufgehoben: Mit einem deftigen "Hey!" reißt Danko bei "Sleep is the enemy" jeden Zuhörer aus den Träumen und nach wenigen Sekunden ist man in der Aufrechten. Genialer Track und sicherlich ein heißer Anwärter auf den Titel "Tanzflächenkiller 2006"!

So Mr.Jones! Falls sie sich in Zukunft mal auf diese Seite verirren sollten und ein Deutsch-Englisch Übersetzungsbruch parat haben sollten, so lassen sie sich eines gesagt sein: "Ihr Album ist dreckig, sexy und ich will mehr davon!Und zwar bald! So, Ende der Durchsage, jetzt dürfen sie wieder auf die Bühne klettern und gepflegt Gas geben! Wir sehen uns in Wiesbaden."
Tracklist: