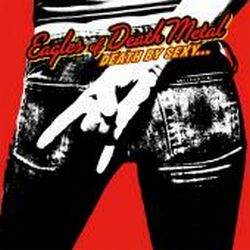 Lange hat es gedauert, jetzt ist es also endlich draußen - das neue und somit zweite Werk der Eagles of death metal. Nachdem man ja bereits mit dem Vorgänger "Peace, love and death metal" für Aufsehen gesorgt hatte wird nun nachgelegt. In gewohnter Manier versteht sich.
Die gut befreundeten Musiker Jessie Hughes (ja, der Herr mit dem nicht zu verachtenden Pornobalken unter der Nase) und Josh Homme (seine bisherigen Tätigkeiten müssen ja an dieser Stelle eigentlich nicht mehr erwähnt werden...) haben es also mal wieder gewagt und sich ein erneutes Mal im Studio verausgabt. Vorweg: Wem die erste Platte nicht gefiel, der wird auch dieses Mal kein Gefallen an der Truppe finden. Der Sound ist der Gleiche, die Texte schließen ebenfalls an den üblichen Themen an und auch sonst hat man nicht viel neues gewagt. Bleibt noch zu sagen, daß sich Herr Homme dieses Mal eher auf das Produzieren konzentriert hat und das Werk nach sage und schreibe 12 Tagen im Kasten war.
Den Anfang macht "I want you so hard (Bad boys news)". Ein Song, der auf jeden Fall überzeugen kann und noch zu den stärkeren Tracks der Platte gehört. Man knüpft einwandfrei an den alten Gewohnheiten an und der Zuhörer kann ohne ein schlechtes Gewissen zu haben mit dem Hintern auf der Tanzfläche herumwackeln. "I gotta feeling" fängt stark an, jedoch ist nach kurzer Zeit die Luft raus und man ertappt sich dabei, den ungeliebten 'DJ Skip' zu spielen und ein Lied weiter zu drücken. Naja, man hält tapfer durch und wird anschließend mit "Cherry Cola" belohnt. Sehr schicker Song, erneut mit viel Sex-Appeal und der dazu gehörigen Portion Rock'n'Roll. Bei "I like to move in the night" scheint alles anders zu werden. Kleines Drumintro und ein bluesartiger Gitarrenriff markieren den Anfang, doch die Eagles of death metal verfallen der gewohnten Masche und so bleibt auch hier alles beim Alten. "Don´t speak" brennt sich im Ohr fest und kann mit einem simplen, aber schicken Riff überzeugen. Ziemlich cool kommt dann "Chase the devil" rüber. Schön schnelle Rocknummer mit Countryelementen. Endlich mal ein wenig Abwechslung im Hause Jesse Hughes! Den Abschluss bildet dann "Bag O´Miracles".
Es ist ziemlich schwer ein abschließendes "Urteil" über dieses Album zu fällen. Das Pulver schien bereits nach wenigen Liedern komplett verschossen und der Rest dümpelt größtenteils belanglos vor sich hin. Obwohl man sich mit Brody Dalle (The Distillers), Jack Black (Tenecious D.) und Mark Lanegan doch einige Böller zur Seite geholt hatte reicht der Silberling nicht an den Vorgänger heran. Knaller wie "I only want you" sucht man leider vergeblich und der Zuhörer fragt sich, ob wirklich ein dritter Teil der Eagles of death metal-Serie von Nöten ist. Sollte man mal abwarten.
www.eaglesofdeathmetal.net