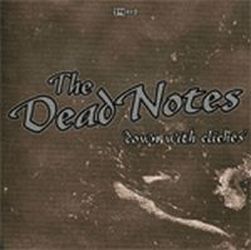 Die Dead Notes machen seit 2003 zusammen Musik und stammen aus dem knappp 7000 Einwohner zählenden Kaff Arnstorf in Bayern. Die Langeweile scheint sie zusammengebracht zu haben und nun erscheint als Folgeprodukt der Einöde mit "Down with Clichés" der erste Longplayer der Band.
Diese beschreibt ihre Musik selbst als "Punk´n´Roll" und somit geht man schon einmal gespannt an die Sache ran. Doch schon nach wenigen Liedern ist hier klar: Viel heiße Luft um fast nichts. Der Schinken mag ja in der Provinz bei der Dorfjugend, die ausser Blaskapellen und Stammtischgelaber nicht viel geboten bekommt gut ankommen. Das gewisse Etwas sucht man hier jedoch vergebens.
Bis zum 5. Track "I wanna rock" dümpelt alles vor sich hin und man kommt in Versuchung den geächteten 'DJ Skip' zu spielen - hält jedoch tapfer durch und gibt der Truppe eine Chance. Hier und da sind zwar einige gute Ansätze zu verzeichnen, die Stimme von Sänger Tobi passt aber oftmals einfach nicht ins Programm. Bei "I wanna rock" wird es dann doch noch richtig dreckig und man merkt, daß neben Weizenbier auch schon der ein oder andere Whiskey die Kehle heruntergelaufen sein muss. Geht doch! Das nächste Stück "Psycho" geht auf jeden Fall ebenfalls in Ordnung, danach scheint aber wieder die Luft raus zu sein. Die folgende Ballade "Take my hand" geht als bester Track des Albums durch und die Dead Notes machen hier einigen Boden gut. Bis auf "59 blue Chevy" folgt anschließend eigentlich nur noch Schmuh und man stellt sich zeitweise doch die Frage, ob die 4 Jungs so einen Schlitten überhaupt schon fahren dürften - erinnert das Album zeitweise doch eher an das Produkt einer Schülerband.
Im Großen und Ganzen also ein recht durchwachsenes Erstlingswerk der 4 jungen Herren aus dem Freistaat. Mir persönlich gefällt es nicht so recht, jedoch dürfte es mit Sicherheit den ein oder anderen Abnehmer finden. Und ausbaufähig ist das, was mit "Down with Clichés" da abgeliefert wurde allemal!
Label: Modernnoise Vertrieb: Cargo