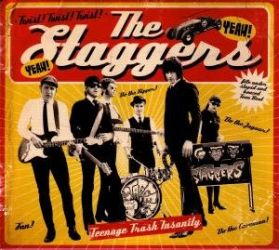 Es kommt wirklich selten vor, daß ich eine CD nach etwa 10 Sekunden der Hörprobe zur Kasse begleite. So geschehen jedoch vor wenigen Tagen im Plattenladen meines Vertrauens. Das Cover der neuen
Staggers
-Platte machte Lust auf mehr und nach nur kurzem Anspielen der ersten beiden Tracks war mir klar, daß diese Platte eingesackt werden müsse. Eine absolut richtige Entscheidung wie sich noch herausstellen sollte.
Schon am Cover lässt sich erkennen, in was für eine Kerbe mit 'Teenage trash insanity' gehauen wird. Man orientiert sich an den guten, alten Zeiten der Garagemusik, der Surfklänge und der Farfisa-Orgel. Eigentlich ja seit den 60ern nichts neues, aber immer wieder erfrischend zu hören und in diesem Falle auch herrlich rübergebracht. Und was da aus unserem Nachbarland Österreich herübergeschwappt kommt und per Wohnzimmer Records serviert wird, ist durchweg großartig. Stilvoll verpackte Tracks mit schicken Beats, die die Hüften wippen lassen.
13 Lieder, 5 Herren, 1 Dame und jede Menge Stil. Ein absolutes Erfolgsrezept, was dann im Endeffekt auch völlig aufgeht. 'The Jaguar', 'Be my queen' und 'Do the ripper' bilden nur einen kleinen Auszug aus den Höhepunkten der Platte. Oft kommt es nicht vor, daß ich mich in Lobeshymmnen über eine Band verliere, aber die Staggers haben einfach den Nerv getroffen. Zudem liegt dem Digipack noch ein schickes Retro-Booklet im passenden 60s-Stil bei, jedoch vermisst man hier die Songtexte, was aber zu verschmerzen ist.
Also werte Damen und Herren von The Staggers: Wenn ihr plant in den nächsten Monaten mal eine Tour durch das beschauliche Deutschland zu machen, versucht mal einen Abstecher in die Gegend rund um Frankfurt einzuplanen. Einen zahlenden Kunden habt ihr schonmal!