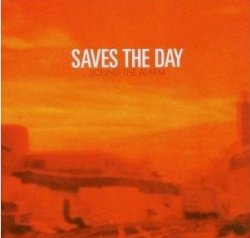 Saves The Day retteten mir wirklich schon den einen oder anderen Moment. Quasi Superhelden der Musik. Selbst die Fahrt zur Schule wurde damals durch Saves The Day zu einer ganz angenehmen Kiste.
Stay What You Are" oder "Through Being Cool" eingelegt und vor dem grauen Schulalltag noch mal eine kurze Autodisco an der Ampel hinter dem Lenkrad gestartet.
Das weiß ich noch als wäre es gestern gewesen und ich hatte die Hoffnung, dass da großes folgen wird. Aber der letzte Longplayer "In Reverie" war nichts halbes und nichts ganzes. Eine Frontalfahrt mit 120 Sachen gegen die Wand. Mal ganz gerade raus gesagt: Eine herbe Enttäuschung. Belangloser, radiotauglicher und beliebig austauschbarer Pop.
Back to the roots muss das Motto heißen.
Auf das besinnen, was man kann. Und das ist bei Saves The Day der Punk mit gewissem Popeinschlag und Hang zur Melodie. Schon nach den ersten Takten ist klar, dass die Band sich das zu Herzen genommen hat und alles besser machen will. Die Gitarren werden wieder lauter und wilder. Die Musik erinnert nicht mehr an einen begradigten Fluss der vor sich hin plätschert, sondern nähert sich wieder dem reißenden Strom. So wie es mal war. Und genau so fangen sie auch wieder an Spaß zu machen. Chris Conley kann eben auch nur etwas lauter. Leisere Gefilde sind nicht seine Spezialität. Aber jetzt mal genug auf dem alten Album rumgehackt. Ausrutscher eben.
Mit Songs wie "Say You´ll Never Leave" und "Shattered" erleben wir wieder die neuen alten Saves The Day. Auch wenn noch das gewisse Etwas an Melodieverliebtheit fehlt sind sie doch auf dem richtigen Weg. Man sollte seine Wurzeln eben nie vergessen.
http://www.savestheday.com