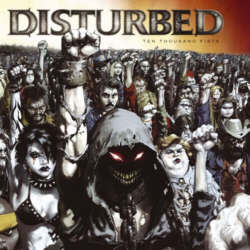 Man was war ich überrascht als ich "Ten Thousand Fists" das erste Mal zu Ohren bekam. Nachdem die letzte Disturbed Langrille eher aus dem Land der tausend Überflüssigkeiten zu stammen schien, ist das neue Werk der vier New-Metaller eine willkommene Abwechslung.
Die gewohnt fette Produktion und David Draimans Stimme, die prägnantesten Merkmale des US-Quartetts, sorgen auch auf dem neuen Album für einen hohen Wiedererkennungswert. Ansonsten hat sich einiges getan. Draiman singt teilweise sehr metallastig (siehe z.B. "Avarice"), sprich er kratzt stark an der ersten Region der Provinz "Eierkneifingen", meistert diesen Drahtseilakt aber, ohne aber ins Nervige abzudriften.
Bemerkenswert, beim Genesis-Cover "Land of confusion" glaubt man stellenweise, den guten alten Phil Collins himself zu hören. Unterstützt wird der variantenreiche Gesang von einer ebenfalls sehr vielseitigen, sich stark am Debut orientierenden, Rhytmusabteilung, die auch vor dem Einsatz von Doublebass und einer ordentlichen Portion waschechter Soli nicht zurückschreckt. Das an Spielautomaten erinnernde Elektrogedudel von "The Sickness" gehört glücklicherweise auch der Vergangenheit an.

Wenn New-Metal ein Schimpfwort ist und alle seine Fans per Definition somit Idioten, dann Leute, dann zählt mich zu den Debilen. Ohne Zweifel der beste Output, den Disturbed bisher unters Volk gebracht hat, sicherlich auf für Traditionalisten mit weniger konservativen Ansichten interessant. 10000 Thumbs in the air.