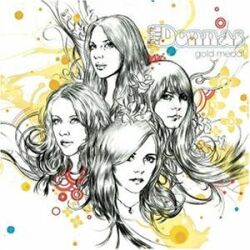 Jaja, die Donnas, 2003 waren sie für mich eines der Highlights bei "Rock am Ring", auch ihr letztes Album "Spend the night", mit seinem druckvollen, schwer AC/DC-lastigen Rollgerocke und dem Fakt, dass die vier Damen nebenbei auch noch gut aussehen (wobei diese Tatsache leider keinerlei Einfluss auf musikalische Fähigkeiten hat und nur als schöner Nebeneffekt angesehen werden kann), liess einiges vom aktuellen Silberling "Gold Medal" erwarten.
Jetzt hör ich mir das gute Stück an, und schon der Opener "I Don't Want To Know" macht deutlich, dass die richtig rockigen Tage dieser Formation anscheinend vorbei sind, obwohl sich musikalisch überhaupt nicht viel verändert hat. Wie geht'n das?

Ganz einfach. Auf "Gold Medal" ist einfach alles eine Stufe weicher, langsamer und gemässigter als auf dem Vorgänger. Hin und wieder drängt sich der Verdacht auf, dass hier Avril Lavigne Pate stand.

Das mag sich jetzt vielleicht schlecht anhören, ist es aber nicht. Denn zum einen tritt man von seinem, auf die Dauer sehr nervigen, Schlampenimage zurück und zum anderen wird auf diesem Album mit Akkustikgitarren und einigen ruhigen Parts auch das ein oder andere Experiment gewagt.

Für die Goldmedaille reicht es aufgrund des fehlenden Tempogehalts leider nicht, aber allen die besagte Avril zu poppig (und es peinlich finden, dass sie sie eigentlich doch irgendwie gut finden), denen sei diese Platte angeraten, klingt wie diese Pseudo-Punkerin, nur um knappe 10 Stufen geiler.

www.thedonnas.com