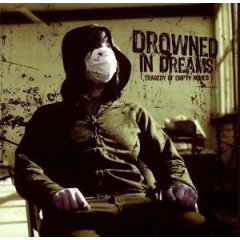 Ja, Herrschoaftszeitn.
Drowned in Dreams
spielen die fünf Songs ihrer "Tragedy Of Empty Homes - EP" so souverän runter, als wären sie schon Jahre im Geschäft, dabei gibt es die Band in ihrer jetzigen Form erst seit 2007.
We do what we love, verkündet die Pressemitteilung. Das ist in diesem Fall Hardcore vom Feinsten, der sich in keinster Weise vor Bands wie denen als Referenz genannten
Cataract
verstecken muss.
Ganz im Gegenteil. Was einem hier entgegen knallt ist so verdammt rücksichtslos, überlegen und gnadenlos, wie die chinesische Polizei, wenn sie gegen friedliche und unbewaffnete tibetanische Pilger vorgeht. Anders als hirnlose Polizeimarionetten agiert der Hardcore - Vierer clever und eigenständig. Mixt seine Musik mit stellenweisen Metalpassagen, die zwar im Zusammenhang mit der extrem rauen und angepissten Stimme von Sänger (äh sorry "Throat") Gerhard Goebl unplaziert wirken, aber sich insgesamt doch wohltuend vom Einheitsbrei abheben. Siehe bzw. höre hierzu den Opener "Judgement Day"
Einfach herrlich wenn Meister Goebl knurrend "Voice to protest" eröffnet, der Song sich in bester Headbangermanier nach oben schraubt und sich selbst per Schlagzeug auseinander nimmt. "Big Eyes" überrascht mit melodischen Mittelteil und bei "Now you're lost" gibt sich ein kurzer Growlpart schließlich die Klinke mit einem klassischen Hardcore-Chor inklusive Vorsänger in die Hand. Auf die Fresse und das auch noch mit Stil.
Ein neuer Beweis, dass sehr guter Hardcore nicht nur aus Übersee, sondern eben auch aus deutschen Landen kommen kann.
http://drownedindreams.com/
VÖ: 30.03.2008 auf FNR/Radar