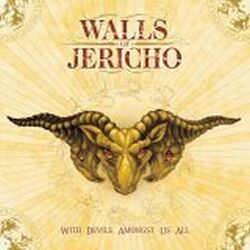 Es gibt ja nicht viele weibliche Geschöpfe im Business der härteren Rockmusik. Umso mehr werden logischerweise die Wenigen beobachtet, die sich an den Instrumenten oder am Gesang versuchen. Candace Kucsulain ist so eine, die sich derzeit wachsender Beliebtheit erfreut.
Ihreszeichen Frontfrau bei der US-Amerikanischen Hardcoreband Walls of Jericho hat sie es in kürzester Zeit zu einer Szeneberühmtheit gebracht und dürfte sicherlich viele weibliche musikinteressierte Damen dazu ermutigt haben auch einmal ihr Glück in der Musik zu suchen. Viele wurden sicherlich 2004 zum ersten mal auf den 5er aus Detroit aufmerksam, als ihnen der Durchbruch mit "All hail the dead" via 'Roadrunner' gelang. In Kürze tourte die Truppe durch Deutschland - unter anderem im Rahmen der 'Eastpack Resistance Tour' und konnte dabei einen ganzen Haufen neuer Fans für sich gewinnen. Dann schauen wir doch mal, was sich seitdem getan hat.
Das neue Album beginnt mit einem Paukenschlag: "A trigger full of promises" geht direkt ins Gesicht. Candance kann erneut mit ihren Shoutparts überzeugen und dieses Mal im Refrain sogar ein ganzes Stück kontrollierter singen. "I know Hollywood and you ain´t it" macht direkt dort weiter, womit beim Einstieg schluss war: Schnelle Riffs, harte Moshparts und ein derbes Geknüppel auf den Drums. Während auf dem Vorgänger alles noch sehr chaotisch schien, kommt die Band auf dem aktuellen Longplayer weitaus professioneller daher: Der Gesang passt genial zu den Riffs und man ist erstaunt, was sich im Hause Walls of Jericho so getan hat. "Try.Fail.Repeat" schießt einem mit einer unglaublichen Energie um die Ohren und erinnert an die Band vor 2 Jahren. Immer wieder gerne, sau geil - und weiter gehts. Mit "The Haunted" folgt einer der genialsten Tracks der Platte, welcher auch nach mehrmaligen durchhören immer noch mitreißt. Und bei "No saving me" fällt dann auch dem letzten Interessenten auf, daß sich in Sachen Walls of Jericho einiges getan hat: Da fällt einem doch glatt eine Ballade in den Schoß. Hier zeigt Candance zum ersten Mal, daß sie auch richtig clean singen kann - meine Güte, das hätte sicherlich nicht jeder erwartet - und die Streicher im Hintergrund verpassen dem Song noch das nötige Ambiente. Wird sicherlich nicht jedem gefallen - mir schon. Schön auch, daß sie bis zum Ende hindurchhält und der Track nicht mittendrin erneut in die Moshecke abdriftet. Bei "Welcome home" und "With devils amongst us all" brüllt sie dann jedoch wieder in gewohnter Manier los und vergewaltigt die Stimmbänder.
Schön zu sehen, daß manche Bands immer noch steigerungsfähig sind. Walls of Jericho liefern mit ihrem neuen Werk eine durchaus gelungene Vorstellung ab und fahren auch mal andere Seiten auf. Die Truppe ist übrigens im Herbst unter Anderem mit Sick of it all auf Deutschlandtour zu begutachten. Da gibts dann wieder Haue aus den Amps!
www.allhailthedead.com