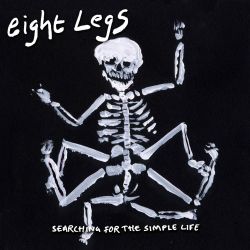 Langsam wirkt es schon ein wenig erschreckend, in was für einem Tempo sich britische Bands dem europäischen Festland nähern und da fällt es phasenweise natürlich schon ziemlich schwer den Überblick zu behalten, um nicht gnadenlos überrollt zu werden. Ab und zu bliebt eine Perle aber auch im Ohr hängen und sie ist es wert näher betrachtet zu werden. Das Debüt von den
Eight legs
ist so ein Fall.
Obwohl Stratford-upon-avon nur ein kleines Kaff in England ist, hat es nicht zuletzt als Geburtststätte von William Shakespeare Berühmtheit erlangt. Nun bringen die Eight Legs mit ihrem neuen Silberling auch bildungsresistenten Musikinteressierten ein wenig Geschichtsunterricht bei. Auch nicht schlecht.
Vorweg sei gesagt, dass das Gebotene absolut nichts neues ist. 30 Minuten Indiepop/rock mit hartem britischen Akzent, der einen schon mal gediegen den Tee aufsetzen lässt. Der Opener "Wear that Shirt" erinnert stimmlich sowas von an Art Brut, dass man für einen kurzen Moment verdutzt die Ohren spitzt, um zu schauen ob Mr.Argos für dieses Lied nicht sogar persönlich Pate stand. Scheint jedoch nicht so zu sein. Gestört hätte es trotzdem keinesfalls.
Was in der nächsten halbe Stunde folgt sind gediegene, tanzbare und auch eingängige 11 Tracks, die einem am Ende das Gefühl geben keinerlei Zeit mit dem Hören des Albums verschwendet zu haben. Besonders "Freak out the neighbours", "Blood sweat tears" und "These gray days" bleiben hängen und vor allem letzteres dürfte den vier sympatischen Jungs helfen hier in Deutschland schnell Fuß zu fassen. Neben anderen Größen in dem Geschäft brauchen sie sich zumindest nicht zu verstecken und ein Nachfolger von "Searching for the simple life" darf gerne den Weg in meine Anlage finden.
Homepage