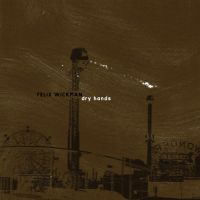 Die schwedische Indieband Toffe På Bas dürfte den wenigsten Musikhörern in hiesigen Breitengraden ein Begriff sein. Umso weniger logischer Weise auch deren Mitglied Felix Wickman. Dass zur Zeit immer mehr Musiker aus Bands sich auch Solo als Singer/Songwriter versuchen, ist ja nichts neues. Spontan fallen einem da Chuck Ragan (Hot water music), Joey Cape (Lagwagon) oder Tom Mess (Madstateworld) ein. Herr Wickmann betritt in diesem Bereich nun ebenfalls Neuland, geht das Projekt aber ein wenig anders an als seine Vorgänger.
Während die oben genannten Künstler sich größtenteils noch stark von Folk haben beeinflussen lassen, schlägt Felix Wickman eher in eine ruhige, melancholische und stark atmosphärisch geprägte Kerbe. Die Atmosphäre erinnert dabei zeitweise ein wenig an alte Sigur Rós und Ólafur Arnalds – die isländische Kerbe also, die auch hierzulande in den letzten Jahren immer mehr Beiklang gefunden hat.
In den 6 Liedern (wenn man vom 30-sekündigen Intro absieht), die es insgesamt auf immerhin fast 26 Minuten bringen, zieht der Schwede gekonnt alle Register und bringt beispielsweise bei "Windows and mirrors" auch den ein oder anderen jazzlastigen Part mit ein.Das folgende "Dead ends" gehört mit seinem treibenden Beat und seinen Akkorden doch eher zu den schnelleren und gleichzeitig auch zu einem der besten Stücke der EP.
Im Grunde genommen fällt es mir aber eher schwer die gewonnenen Eindrücke zu deuten und in Worte zu fassen. Stimmlich lässt sich der Gute schwer einordnen, da er in diesem Bereich irre facettenreich daherkommt und musikalisch kann generell einfach nichts ausgesetzt werden. Wirklich einwandfrei erschaffene Musik, die man ohne großes Zögern beim Abhängen im Grünen oder bei regnerischem Wetter in den eigenen vier Wänden aufscheppen kann.
Wer jetzt Blut geleckt hat kann getrost einmal auf der
Myspace-Seite
von Felix Wickman
vorbeischauen und sich einen eigenen ersten Eindruck verschaffen. Die komplette Produktpalette der EP kann man sich dann übrigens ab dem 01. Mai zu Gemüte führen: Da wird das gute Stück via Waggle-Daggle als Online-Only-Release in den virtuellen Regalen wie Itunes oder im Store von
Waggle-Daggle
zu finden sein. Dann gibts auf Dry Hands zusätzlich den sehr zu empfehlenden Bonustrack "Mauro the Clown" noch obendrauf. Auschecken!
http://www.myspace.com/felixwickman