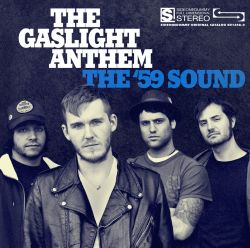 Wie sagte
The Gaslight Anthem
-Sänger Brian Fallon einmal in einem Interview mit dem großen deutschen Musikmagazin Visions: "Wenn es einen Trend gibt, dann den zur Ehrlichkeit." Auch wenn der Begriff der Ehrlichkeit in der Musiklandschaft heutzutage eine gern verwendete Floskel ist, mit der sich die meisten Bands gerne einmal in die eigene Tasche lügen, so kauft man der Band aus New Jersey diesen Satz auf Anhieb ab. Grund dazu gibt allein das neu erscheinende Werk
"The ´59Sound"
.
Den Anfang macht das Kratzen einer Schallplattennadel, welches quasi den Einstieg in den Opener "Great Expectations" liefert. Große Erwartungen, die durchweg erfüllt werden. Ohne großen Aufbau entfaltet sich der Song ab dem ersten Moment der erklingenden Instrumente in seiner voller Pracht. Die wunderbare – an Bruce Springsteen erinnernde – Stimme von Sänger Brian gepaart mit den gut abgestimmten Instrumenten seiner drei Bandmitglieder schnüren ein wundervolles Musikpaket aus Punk und Blues, welches einen gemütlich die Füße hochlegen und den Kopf mitnicken lässt.

Dass Flogging Molly-Gitarrist Ted Hutt im Studio als Produzent die Fäden gezogen hat (was er ganz nebenbei auch schon für namenswerte Szenegrößen wie Chuck Ragan oder The Bouncing Souls tat), nach dem dritten Höreindruck schließlich nicht mehr verwundern.
Während sich das großartige "Old white Lincoln" zum potentiellen Ohrwurmkandidat mausert und der Titeltrack "The ´59 Sound" die punkrockigen Adern der Jungs hervortreten lässt, zeigen Songs wie "Film Noir" und "Even cowgirls get the blues" eindrucksvoll die ruhigen und souligen Seiten der Band auf. Dass diese Truppe erst seit etwa zweieinhalb Jahren zusammen Musik machen soll, fällt beim Durchhören von "The ´59 Sound" schwer zu glauben. Zu gut scheinen die vier Musiker zu harmonieren.
Es ist nicht leicht die Musik von The Gaslight Anthem in eigenen Worten wiederzugeben. Am Besten ist es, ihr findet am 29.08. diesen Jahres den Weg in den (gut sortierten) Plattenladen eures Vertrauens und macht euch selbst ein Bild von dieser Band. Ein Bild, welches
- wie Frontmann Brian Fallon einmal erwähnte – durch seine Texte geschaffen werden solle. Ein schönes, wie ich finde.
The Gaslight Anthem sind übrigens zur Zeit auf einer ausgedehnten Europatour und machen auch einige Male halt in deutschen Clubs. Die Tourdaten findet ihr
hier
.
VÖ: 29.08.2008
auf
Sideonedummy Records
/ Vertrieb: Carg

o