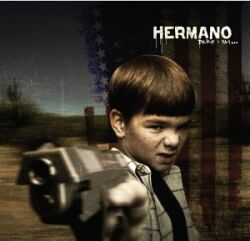 John Garcia dürfte bekannt sein, Kyuss-Veteran, frenetischer Wüstensohn und einer der wenigen Ex-Kyussmitglieder die dem originalen Sound der drogenumnebelten Rockband von einst immer noch halbwegs am Leben halten. Klar, Garcia hat gut reden, oder vielmehr singen, prägte doch nicht zuletzt sein unvergleichliches Organ den Kyuss-Sound massgeblich mit.
Während die Queens of the stone age eher auf der experimentellen und leicht psychedelischen Ebene mehr oder weniger popig daher kommen, gibt es auf dem neuesten Hermano Werk die gute alte "in-die-Fress"-Attitüde, die man von den Bands, in denen der gute John seit Kyuss mitspielte (Unida & Slo-Burn), gewöhnt ist.

Und darin besteht das eigentliche Problem dieses Albums, gegen das Teil kann man nichts sagen, rasante Landstrassenmucke die nach Benzin und verbrannten Gummi riecht. Klingt gut, hat man aber schon des öfteren vom gleichen Interpreten gehört und läuft Gefahr sich langsam aber sicher abzunutzen. Songs wie "Cowboys suck", "Roll over" oder "Lets get in on" suchen immernoch ihresgleichen, "Life" klingt sehr verdächtig nach dem grossen, längst verstorbenen Bruder, da kann man eigentlich auch nichts verkehrt machen.
Doch schleichen sich mehr und mehr mutmaßliche Lückenfühler ein ("On the desert" oder das nervige "Angry American"), die einem die ungetrübte Freude, sich gerade ein grosses Rockalbum reinzufahren, zerstören. Ganz im Gegenteil drängt sich die Frage auf, ob diese Langrille überhaupt nötig gewesen wäre, wenn man doch den gesamten Desert-Kyfuburnchehermage Backkatalog im Regal stehen hat.

Für Leute, die die letzten Jahre verpennt haben und "Dare I say..." unbedarft kaufen, dürfte das Album ziemlich rocken. Für alle andren bleibt abschliessend nur zu sagen, dass dieser Zweig des Stoner-Rumpel-Rock in seinen letzten Atemzügen liegt. Wie sagte Grönemeyer so schön "Stillstand ist der Tod". Hoffen wir das die Queens auf ihrem kommenden Album an alte Erfolge anknüpfen können.