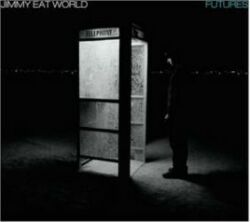 Da halte ich es nun in den Händen - "Futures" - das neue Album von den unglaublichen Jimmy Eat World, auf das viele über drei unendlich lange Jahre gewartet haben. Die vier Herren aus Mesa, Arizona veröffentlichen mit Futures nun ihr viertes Album. Der Erwartungsdruck an die Band war natürlich nach Clarity und Bleed American riesig, da diese Platten mittlerweile Referenzwerke in ihrem Genre darstellen und erst einmal überboten werden müssen.
Clarity, das mit wunderschönen Melodien zu überzeugen wusste und Bleed American, auf der jeder Song an sich der perfekte Popsong war. Was sollte also nach solch zwei brillanten Alben noch kommen? Jim Adkins, Kopf der Band, wollte dass auf Futures jeder Song in sich selbst perfekt sein soll. Dieses Vorhaben hat er in die Tat umgesetzt. Futures wird keinen enttäuschen, der auch schon die vorherigen Alben ins Herz geschlossen hat.

Das Erfolgsrezept von Clarity und Bleed American wurde konsequent weitergeführt. Es ist also eine gute Mischung aus dem was Jimmy Eat World auszeichnet. Dass diese Platte wieder einschlagen wird, liegt aber auch sehr wahrscheinlich daran, dass die Band den Producer wechselte, mit dem sie schon seit Jahren zusammenarbeitete. Mark Trombino wurde durch Gil Norton, der auch schon die Foo Fighters und Pixies produzierte ersetzt. Nach eigenen Aussagen der Band wurde somit ein Festfahren in einer Sackgasse verhindert und man konnte sich weiterentwickeln.

Auf dem Album geht es mit dem Opener "Futures" schon recht explosiv los. Hier äußern sich Jimmy Eat World auch das erste Mal politisch ("I hope for better in November"), was natürlich auf die Präsidentschaftswahl in den Vereinigten Staaten im November bezogen ist. Mir persönlich sind Jimmy Eat World ohne politische Aussagen lieber, aber das ist Geschmackssache. Danach folgen mit "Just Tonight..." und "Work" zwei "Dancing-Songs", wie Adkins sagen würde. Dabei überzeugt vor allem "Work". Aufgrund solcher Lieder werden Jimmy Eat World geliebt: "Can we take a ride? / Get out of this place while we still have time." Hier riecht es nach Freiheit. Geh raus und und genieß dein Leben solange du es noch kannst wollen sie uns damit sagen. 3 Minuten und 26 Sekunden Gitarrenpop vom Feinsten beim dem keiner seine Füße stillhalten kann. Weiter geht es mit einem Highlight der Platte: "Kill". Ein etwas langsameres Stück in typischer Jimmy Eat World Manier.
Da weiß der Hörer gar nicht ob er fröhlich oder traurig sein soll. Solche Gefühlsregungen kann dieses Lied auslösen. Wie schon erwähnt: Einfach Typisch. Mit dem folgenden sehr positiven "The World You Love" und dem kompakt bestechenden "Pain" haben Jimmy Eat World wieder zwei Tanzflächenfüller mehr auf ihrem Konto. Auf der zweiten Albumhälfte geht es dann mit nur einer Ausnahme etwas ruhiger und langsamer zu. Aber das können sie schließlich auch. Mit "Drugs Or Me" hat Jim Adkins eine wunderschöne Ballade geschrieben und es ist mitunter der traurigste Song der Platte. "Stay with me / You're the one I need / You make the hardest things / Seem easy." Einfach schön. Fast schon herzerweichend. Mit "Polaris", ein toller Midtempo-Song, und dem aggressiven "Nothing Wrong" geht es weiter. "Night Drive" und "23" runden die Platte ab. "23" ist das für Futures, was "Goodbye Sky Harbour" für Clarity war. Ein siebenminütiger furioser Schlussspurt und die beste Ballade seit "Just Watch The Fireworks". Der Bonussong "Shame", der etwas ungeschliffen und roh daherkommt, erinnert dann wieder rum an alte Zeiten.

Futures kommt nicht ganz an die vorherigen Veröffentlichungen heran, aber das war auch nicht zu erwarten, da "Clarity" und "Bleed American" meines Erachtens nach gar nicht mehr übertroffen werden können. Alles in allem ein sehr gelungenes Album. Für jeden Jimmy Eat World Fan ein Muss, für jeden anderen ist dieses Album der perfekte Einstieg um diese Band kennen und lieben zu lernen....
Homepage:
www.jimmyeatworld.com