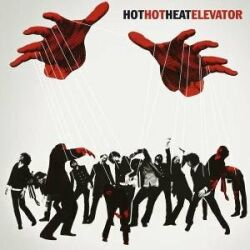 Hot Hot Heat
ist eine dieser Bands: Brilliantes Debütalbum. Ausverkaufte Clubtourneen. Die Musikpresse schwärmt in den allerhöchsten Tönen. Und das zu Recht.
Aber nach
"Make Up The Brakedown"
, das eingeschlagen hat wie eine Bombe, kann es schließlich nur bergab gehen. Denn der Zenith schien ja eigentlich schon erreicht, so dass sich die Musikpresse wahrscheinlich schon darauf einstellte,
"Elevator"
zu zerreißen, da es sowieso nicht an seinen Vorgänger heranreichen könnte. Aber getäuscht meine Herren. Hier wird da weitergemacht, wo die Kanadier auch aufgehört haben. Und das sogar noch besser als vorher. Sie wollten "etwas experimentieren, wachsen und sich weiterentwickeln" und wünschten sich "eine Art höhere Version des Debütalbums". Glückwunsch. Mission Complete.
"Running Out Of Time"
eröffnet das bunte Treiben und zeigt dem Hörer gleich mal wo der Hammer hängt. Rythmussprünge, Steve Fays unverkennbare Stimme und Melodien vom Feinsten. Der Hörer weiß nie in welche Richtung das Lied als nächstes abbiegt. Dann folgt mit
"Goodnight, Goodnight"
das eigentliche Juwel der Platte. Nach Aussagen der Band sollten folgende Attribute die Musik des neuen Albums auszeichnen: Catchy soll sie sein, tanzbar und spaßig. Freitagnachtmusik eben. Dieses Lied spiegelt alle diese Attribute wieder. Der Tanzhit schlechthin.
More Catchy Tunes? Selbstverständlich. "Ladies and Gentlemen" beginnt seltsam mit Lalala-Gesängen, entfaltet dann aber auch wieder im Refrain seine ganze Stärke.
"You Owe Me An I.O.U"
nennt sich das nächste Prachtstück. Immer noch mit dem Prädikat "Freitagnachtsmusik" versehen. Auf
"No Jokes – Fact"
, ein kurzes instrumentales Stückchen, folgt
"Jingle-Jangle"
. Dieser etwas langsamere Track ist unauffälliger als seine Kollegen auf dieser Platte, mietet sich aber trotzdem auf längere Zeit in den Windungen des Gehörgangs ein. Und weiter geht der Spaß:
"Pickin´ It Up"
und
"Island Of The Honest Man"
. Sonnenlieder.
Hot Hot Heat
bleiben ihren Attributen treu.
"Middle Of Nowhere"
nimmt das Tempo dann auf balladiöse Art und Weise wieder heraus ohne dabei kitschig zu werden. Das für Hot Hot Heat Verhältnisse recht unkonventionelle "Dirty Mouth" gefällt gerade deshalb weil es nicht Hot Hot Heat typisch ist. Mit
"Soldier In A Box", "Shame On You"
und
"Elevator"
wird die Fahrstuhltür wieder geschlossen. Aber oben angekommen sind sie. Wer catchy, tanzbare, spaßige Freitagsnachtmusik sucht ist in dieser Etage genau richtig.
08/10