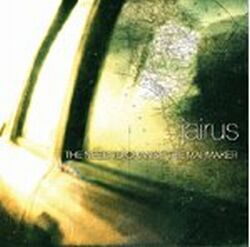 Dank Internet hat man heute Zugang zu mehr Musik als je zuvor, jedoch klaffen Quantität und Qualität weit auseinander. Man findet Tausende von Bands, die ihr Handwerk gut beherschen, aber nur ganz selten entdeckt man welche, die das Prädikat "besonders" verdient haben. Jairus gehören zu diesen raren Perlen.
The Need To Change The Mapmaker ist eine Cd, die Fans von poison the well, deftones, at the drive in oder auch dredg gleichermaßen begeistern kann, was deutlich macht, mit was für einem vielschichtigem Werk man es hier zu tun hat.
Cd rein und auf play gedrückt.

Nach ein paar Takten Intro hämmert man gleich mit Double Bass und Geschrei a la Hopesfall auf den Hörer ein, wechselt dann in einen ruhigeren Part, der auch von mars volta sein könnte, um dann in einem aufwühlenden und melodischen Chorus zu enden. Wow, eine Achterbahnfahrt der Gefühle, die sich über das gesamte Album fortsetzen soll. Obwohl die Parts innerhalb der Lieder sich stark unterscheiden, wirken die Übergänge sehr organisch und nie erzwungen.

Jeder Song kann für sich überzeugen, ein Highlight ist aber auf jeden Fall "and caligula blushed", welches auch auf der Website der Band kostenlos heruntergeladen werden kann.
Das Lied wechselt zwischen ruhigen, cleanen Akkordfolgen und einfallsreichen heavy riffing. Jairus klingen dabei stets schräg, aber nie dissonant. Sind rhythmisch lebendig, aber nicht unbedingt eingängig groovy. Der dezente Einsatz von Samples und anderen digitalen Tonquellen gibt weiterhin klangliche Tiefe und Atmosphäre. Auch in ihren ruhigern Momenten verliert das Album nicht an Spannung sondern bleibt höchst bewegend. Besonders packend wenn es dann doch noch zum Asbruch kommt, wie z.B. in "abandons the exterior look". Der Schreigesang fügt sich im Hintergrund der Musik dazu und wirkt dabei wie ein eigenes Instrument.

Insgesamt bietet die Cd 10 Tracks bei einer Spielzeit von 40 Minuten. Ein Lob verdient auch die Produktion, fett, mit vielen Details und Nuancen.

Jairus in Worte zu fassen ist nicht ganz einfach, da hilft auch das zahlreich hier betriebene Namedropping nicht wirklich. Ob Jairus innovativ sind, oder nicht, darüber mögen sich andere streiten. Hörenswert sind sie auf alle Fäll