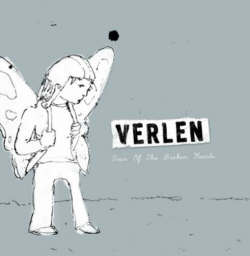 Verlen! Verlen? Wer ist das denn? Verlen kommen aus dem Grossraum Frankfurt! Verlen rocken wie Sau!

Mit "Tour of the broken hearts" erscheint mittlerweile das dritte Album der vier Anfangzwanziger.

Im Gegensatz zu den zwei Vorgängeralben hat sich für den aktuellen Silberling ein Vertrieb gefunden und es konnt Rockstarmässig ne kleinere Deutschlandtournee inklusive "Rock am Ring"!!!!-Auftritt absolviert werden.

Zum Album selbst, Verlen erfinden den Stil ihrer Musik nicht neu, sondern mischen Emo, Indie und Grunge und entwickeln dadurch eine Eigenständigkeit, die für eine Newcomerband echt beachtlich ist. Ok, die Stimme von Sänger Christoph Vidakovic suckt stellenweise schon und erinnert an ne Katze, der über'n Schwanz gefahren wurde. In Verbindung mit den recht actiongeladenen Melodien ( mit "45 Flamingos" oder "Vertigo" gibt es zwei Songs, in denen sich das Geschrei sogar cool anhört) geht das aber völlig in Ordnung.

Kaum übernimmt jedoch Zweit-Sänger Joel Ameloot den Platz am Mikro, gehen die Lieder stark in Richtung Erstklassigkeit. Mit "Down" haben die Jungs sogar ne Recht fette Single am Start. Insgesamt gibts einen kompletten Durchschnitt der menschlichen Stimmungslagen geboten, von Aggro "Vertigo", über Melancholisch "Tour of the broken hearts" bishin zu locker-leicht "Naked".

Also, alle die Bock auf nen dicken Klotz "Indie-Rock-Musik" haben, nebenbei noch ne Band unterstützen wollen, die auf dem Besten weg ist, sich mit eigener Kraft nach oben zu arbeiten, denen sei angeraten sich das Teil zuzulegen. Wahrlich nicht unbedingt ein Meisterwerk, aber wie sagen Verlen in ihrem "The Cat Catcher" selbst, "Tell me something to believe, something to be proud of". Das scheinen die vier Jungs aus Kelkheim für sich gefunden zu haben, und diese Leidenschaft hört man dem Album auch an. Ehrlicher gehts nicht.
www.verlen.de