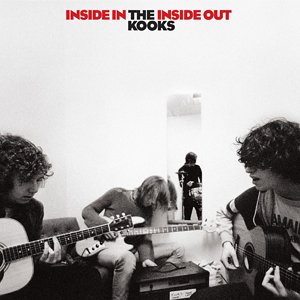 Warum kauft man sich eine Langspielplatte einer bestimmten Band? In diesem Fall war es ganz simpel die Propagandamaschine. In irgendeiner Rezension im weltweiten Netz liest man The Kooks seien die neuen Hot Hot Heat in Lightversion (eine gewisse Ähnlichkeit im Aussehen bringt der Sänger schon mal mit) und im Musikmagazin bei der Trinkhalle um die Ecke steht, dass es wieder mal der neueste heiße Scheiß von der Insel wäre in Form von Akustikgitarre mit Schmiss.
Das hört sich ja alles schon mal ganz gut an. Also die Platte gekauft und das ohne jegliche Probefahrt auf der Gehörautobahn. Riskant, Riskant.
Aber Risiko wird belohnt. Zumindest in diesem Fall.
The Kooks machen mit ihrem Debüt "Inside In – Inside Out" viel richtig und wenig falsch. Songwritermäßige Akzente setzt zum Beispiel der Albumopener "Seaside", der auch genauso gut von Everybody´s Darling Jack Johnson hätte kommen können. Aber dieser ruhige Moment bleibt die Ausnahme, denn die Bandbreite des Könnens dieser Band erstreckt sich auf eine ganz andere Facette. The Kooks setzen ihre Duftmarke im Bereich der fröhlich flotten Gitarrenpoptanzmusik. Wunderbare Beispiele dafür sind "Matchbox" und "See The World".
Und Perlen wie diese verteilen sich mit einer bemerkenswerten Dichte auf der ganzen Platte. Diese Menge an strahlenden Glanzlichtern lässt dann auch die eine oder andere Schwachstelle zum Ende der Platte vergessen. Über diese sehe ich mal galant hinweg und nehme The Kooks in den Club meiner sommerlichen Favoriten auf. Gratulation. Jetzt muss er nur noch kommen der Sommer…
www.thekooks.de