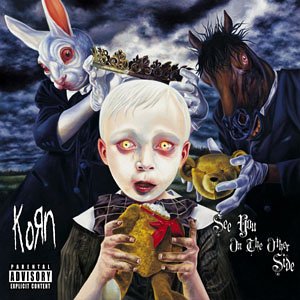 Korn 2005. Klingt wie Korn 2003. Und da klangen sie schon bis auf einige wenige Ausnahmen nach übelster Kornkopie, denen nichts anderes eingefallen war als die Songstrukturen des Originals zu klauen, um damit etliche Alben zu füllen. Gitarrist Head hat die Zeichen der Zeit erkannt ist vorsorglich ausgestiegen und bereut als bekennender Christ die Musiker-Sünden der Vergangenheit.
Die anderen vier Kornys machen munter weiter und versuchen sich an Album Nr.7. Versuchen ist der richtige Ausdruck. Geht der Opener und erste Single "Twisted Transistor" noch mehr als in Ordnung und besitzt überrraschenderweise sogar einiges an Clubtauglichkeit, geht spätestens der zweite Song "Politics" mit seinem geklauten "Back to the primitive"-Refrain mächtig in die Hose.
Track Nr.3 muss vor seinem grossen Vorbild Korn den Hut ziehen und so zieht sich der Reigen bis zum letzten Song namens "Tearjeaker", einer depressiven Dark-Wave-Mischung. Zwar gibt es den üblichen Druck aus der Bass und Drum-Ecke, und tiefer kann eine Gitarre ganz Korntypisch auch nicht gestimmt werden, doch auch die neu eingesetzen Samples und Elektrospielereien können nicht verhindern, dass man sich vorkommt einem üblen Scherz aufgesessen zu sein und "Take a look in a mirror" nochmal hören zu müssen. Der am Rande eingesetzte Dudelsack beispielsweise, war zuletzt in "Dead" originell und das ist schliesslich auch schon sechs Jahre und drei Alben her.
Bleibt nur zu bemerken: Die Band ist mittlerweile dort angelangt, wo ein gewisser Genrekollege mit roter Kappe schon vor einigen Jahren angelangt war. Nämlich vor dem kreativen Aus.
Einzig und allein Sänger und Songwriter Jonathan Davis überrascht mit ordentlichem Gesang und den gewohnt makabren und depressiven Texten. Immerhin das hat er noch drauf. Über den Rest hüllen wir am Besten das Tuch des Schweigens. Traurig was aus Bands werden kann, die sich mit aller Gewalt an das klammern was ihnen einmal Ruhm einbrachte und dabei nicht bemerken, dass sie damals besser aufgehört hätten. Schade, die ehemaligen Bakersfield-Five verkommen zur Lachnummer.
www.korn.com