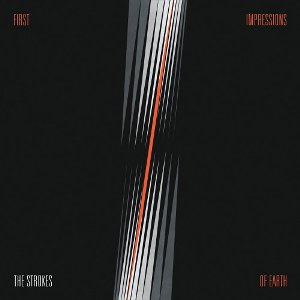 Don't think that everything is gonna stay the same / That's impossible. Genau das nöhlt Julian Casablancas bei "Killing Lies". Wahrhaftig, wahrhaftig. Leider. Aber auch die Strokes müssen sich mal verändern.
"Is This It" und "Room On Fire" waren einfach so verdammt gut. So rotzig. So New York. So Rock´n´Roll. Straight, ohne Umwege, alles gleich auf den Punkt gebracht. Es passte alles zusammen. Ein Rad griff in das andere. Wie ein perfektionistisches Uhrwerk wurde da die Musik abgespult. Das war einmal. Die Strokes wollen anders klingen. Sie experimentieren und das Uhrwerk tickt nicht mehr so ganz perfektionistisch. Es knirscht im Gehäuse. Klingt höchst dramatisch, ist es vielleicht auch.
Der Opener "You Only Live Once" macht da weiter, wo die Strokes seinerzeit bei "Room On Fire" aufgehört haben. So will man sie haben und kein bisschen anders. Rotzige Gitarren, dreckiger Sound und Casablancas aufreibende Stimme. Strokiger geht's nicht. Jetzt denkt der naive Hörer: Alles beim Alten. Falsch gedacht. Beim ersten Hören des nächsten Liedchens "Juicebox" ist man geneigt einfach den Ein-Lied-Weiter-Knopf zu betätigen. Aber halt. Nicht so voreilig. "Juicebox" wird von einer penetranten sich in den Vordergrund drängenden Basslinie durchzogen. Kein Strokes-Sound. Stark gewöhungsbedürftig. Einfach untypisch. Aber nach dem fünfundzwanzigsten Mal hören kommt auch hier erste Begeisterung auf, was in erster Linie am Zuckerguss-Chorus liegt. "Juicebox" wächst, gehört aber nicht zur Familie Strokes, sondern ist eher das rebellierende Adoptivkind, das zuerst niemand mag.
"Heartcage" dagegen ist wieder ein Vollblut-Stroke und "Razorblade" noch zehnmal mehr. Hier erlauben sich die vier New Yorker sogar fast kitschig zu werden. Barry Manilow´s Mandy lässt schön grüßen wenn Casablancas "Oh no, my feelings are more important than yours / Oh, drop dead, I don't care, I won't worry" ins Mikro schimpft. Bittersweet Symphony.
Aber was passiert jetzt. Quelle malheur. "First Impressions Of Earth" geht der Atem aus. Ist das bei den Strokes denn überhaupt möglich? Leider schon. Das Hitpotentialpulver, dass bis vor kurzem schier unerschöpflich erschien, ist ausgegangen. Die Songs laufen orientierungslos vor sich hin. Sie wollen in eine Richtung, aber dann wieder auch nicht. Es ist keine Konstante zu erkennen, die sich sonst bei den Strokes durch die Alben zieht. Zusammen betrachtet wollen die Songs kein einheitliches Gesamtbild abgeben.
Ein Rädchen greift hier nicht ins andere, wie man das sonst gewohnt ist. Verzweifelt ist der Hörer auf der Suche nach einem Song mit Suchtpotential, wie es bei "Last Nite" der Fall war. Sicher gibt es mit dem ruppigen "Visions Of Devision", "Electricityshape" oder dem minimalistischen "Ask Me Anything" noch Lieder die herausstechen, aber selbst diese wollen nicht so recht zünden. Die Strokes sind nach wie vor eine vorzügliche Gitarrenmusikkapelle, aber sie schaffen es nicht den Enthusiasmus und die Begeisterung der ersten beiden Alben auf "First Impressions Of Earth" umzusetzen. Eine kleine Enttäuschung.

www.thestrokes.com